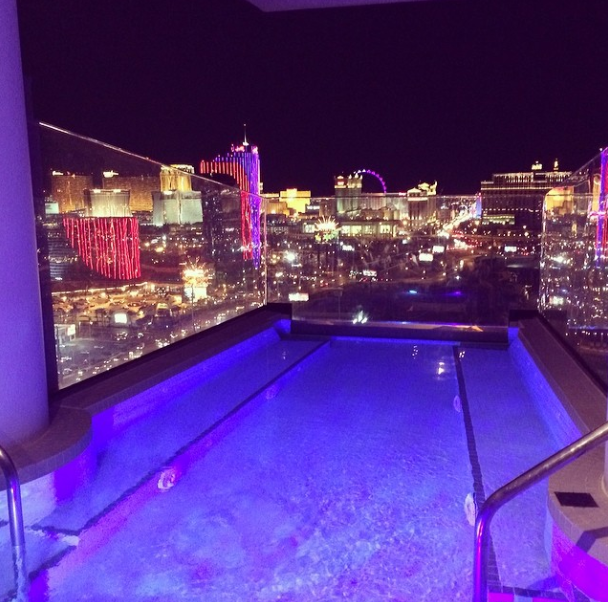 As I mentioned in yesterday's post, I just got back from a super fun trip to Las Vegas with my boyfriend's fraternity. Although I am super bummed that almost all of my photos got stolen along with my iPhone, I am looking on the bright side and pulling photos from my Instagram to share.  Here are a few pictures from USC Sigma Nu's "White Rose" Vegas Formal!

Packing was a little too much fun for me! Here's a picture of what I brought (shoes, shoes, + more shoes)

It is a sorority/fraternity tradition to make bubba kegs or coolers for your date when going to a formal or on a trip, so I made Julian this awesome bubba keg!  It was my first time painting one of these, so it was a learning experience (there is a much different priming/sealing process when it comes to Bubba Kegs.  I personally thought painting an entire cooler was easier to do!)   The pink/bedazzled USC tumbler is mine, of course.

We all got suites at the Venitian, which is my favorite hotel in Las Vegas!

On Friday night, we went to XS to see Diplo perform.  The place was packed! I had a lot of great photos from this event that I will miss (including an awesome selfie of Julian and I in a huge mirror that faced the dance floor). WHY did my phone have to go missing?!

On Saturday we visited the Venitian's pool/TAO beach!  We got lucky – the weather was great!

Julian finally got a chance to show off the USC bowtie that I gave him for his 23rd birthday.  He got SO many compliments at the formal event!

My favorite part of the trip was our visit to The Palms Las Vegas!  Our formal event was held in the Playboy Suite Penthouse – it was amazing.  You could see the entire strip from the top floor!  The suite had a pool, several bedrooms/bathrooms, dancefloor, bar, DJ, workout room, and sauna.  What more could you need?

After the Palms Suite Formal, we headed over to Marquee to see Kaskade perform! I had some awesome pictures from this event, taken approximately 3 seconds before my phone was long gone.
I hope that you enjoyed seeing a few pictures from the trip! If anyone stumbles upon an iPhone 5 with a gold "Be Dazzling" Kate Spade case, you know where to find me 😉