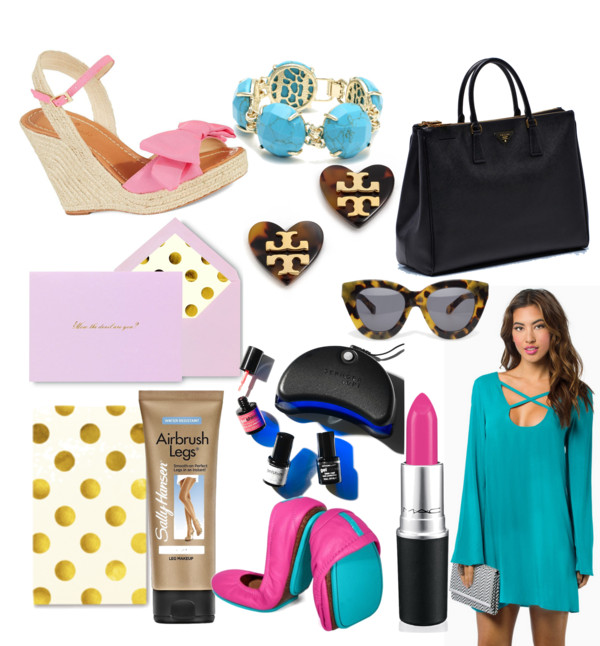 This Spring I'm all about tortoise, turquoise, pink, and polka dots!  Here are some reasons why I'm sure to sport them (or lust after them!) this season! Enjoy.
1.
Kate Spade Wedges
– I'm a huge fan of bows on literally anything.  The best part is that these wedges have a little platform, which means they won't hurt your feet as much!2.
Kendra Scott Bracelet
– I LOVE this style of bracelet from Kendra Scott!  I first fell in love with Kendra Scott's jewelry at one of their store openings and now I can't get enough of it.  The stones on this bracelet are gorgeous and don't dull or fade (even if you wear them almost everyday, like me!)  I also like that the gold hardware doesn't turn strange colors.
3. Prada Double Zip Tote – This is my new go-to bag! I can't say how much of a great investment it has been, especially because I'm a student.  The bag has a rigid construction, so it doesn't flop open in class and spill everywhere like other bags. If you have a 13 inch laptop, it will fit right into either of the zippered compartments!  I've found that it is so much easier to lug around a laptop when it is zipped into a compartment and not getting in the way of everything else in the main compartment.
4. Kate Spade "How The Devil Are You"" Greeting Cards & Gold Foiled Polka Dot Notepad – Kate Spade can do no wrong in my book!  Especially when it comes to stationery.  Anything that is gold foiled catches my eyes these days!
5. Tory Burch Heart-Shaped Tortoise Earrings – I consider tortoise (and leopards) to be neutrals, so these will go with pretty much anything.
6.
Karen Walker Sunglasses
– I spotted these at Barneys NY last weekend and can't stop thinking about them.  I really wish that I had stopped to try them on!  For now, I'll just lust over them.7.
Sally Hansen Airbrush Legs
– I've gotten really sick spray tanners lately, which let me to this amazing product.  I randomly picked a little tube of it out of the dollar bin at CVS and gave it a try – I was amazed!  This product is intended for your legs as an alternative to pantyhose or tanning, but it behaves more like an awesome temporary self-tanner.  If you're in a pinch, trying to save money, or feeling especially pale then I HIGHLY recommend getting this product.  You can use it basically anywhere. It slides on incredibly easily (doesn't streak because it has a different formula than most self-tanners) and dries at the speed of light!  It doesn't come off with sweat or water, but if you take a shower it will come off easily with some soap.  I think the best part is that it doensn't rub off on clothes like almost all self-tanners do!
8. OPI Gel Nails System – This product might be every college girl's dream.  I saw this system on Sephora.com and was immediately interested since I've been using another at-home gel system and wanted to compare the two.  This system is unique in that it uses a LED light rather than the regular old UV light, so LED is supposed to be much better for your skin because it doesn't age your skin in the way that a UV light does.  This product also has stellar reviews on Sephora.com, so I might have to check it out for myself sometime soon.
9. Tieks Ballet Flats – Bright pink is definitely in-style for spring!  My friend who owns a pair of these raves about how comfortable they are and how easy it is to fold them up in your bag for a trip to the nail salon or night out on the town.
10. MAC Playland Collection's "Happy-Go-Lucky" Lipstick – Mac's new Playland collection has definitely caught my eye!  I switch around between a few of my absolute favorite MAC lipsticks, but if I can get my hands on Happy-Go-Lucky, I think it might be my new favorite.
11. TOBI "Forever Crossed Shift Dress" – A girl in my sorority recently showed me TOBI.com and I'm not sure how I didn't' know about this website sooner!  Their dresses are adorable and reasonably priced.  They have a lot of trendy dresses that are great for going out or even luncheons.  They sweeten the deal even more with free shipping + free returns!