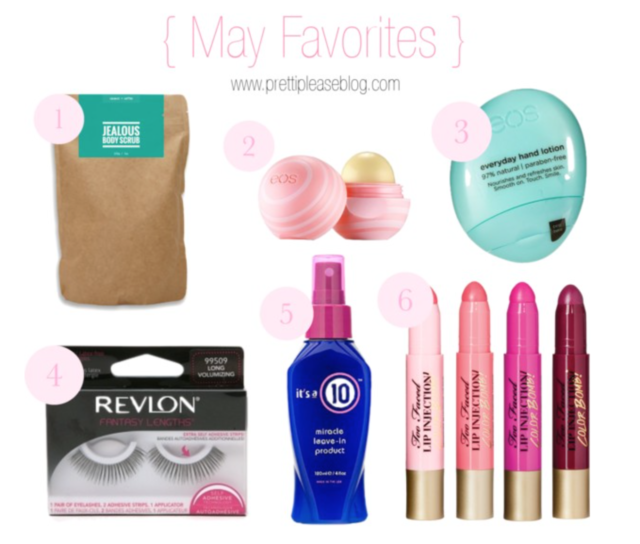 I honestly cannot believe that today is the last day of May! This month flew by with Graduation festivities, senior week, and so many other reasons to celebrate.  Today I'm sharing my top beauty picks from the month of May and hope you enjoy them!  These are things that made getting through my Grad month juuust a bit more glam.
1. Jealous Body Scrub – Let's start off with my absolute favorite product of the month that I never knew I needed – BODY SCRUB.  Why didn't I get on the body scrub train earlier?  Natural beauty products are always a plus in my book! I finally joined the Jealous Body Scrub fan club and gave their amazing scrub a try.  I first used this Canadian brand's coffee & coconut scrub after I noticed my spray tan wearing off and, I have to tell you, this scrub really worked off the funky remnants of my spray tan and left me with smooth, soft skin!  It also smelled heavenly – like coconut and coffee!  This is because it's made of ground coffee, cold pressed coconut oil, sea salt, raw brown sugar, vitamin E & minerals.  Jealous Body Scrub works to reduce appearance of cellulite, eczema, stretch marks, age spots, varicose veins, psoriasis and acne while also hydrating + protecting your skin.  I've been using it 2-3 times a week because I'm heading to Las Vegas next weekend (woo!) and I want my skin to be absolutely glowing.  I'm completely hooked on this yummy-smelling beauty product – what's not to love?! I highly recommend trying Jealous Body Scrub out, you'll thank me later.  Check out their website here if you're curious. (You also might want to check out their super fun Instagram account, it's full of gorgeous people using their product!)
2. EOS Lip Balm – The circular shape of this lip balm makes it super easy to find when digging for it in your purse! The balm itself has great staying-power and doesn't make your lips slippery or shiny like other balms.
3. EOS Everyday Hand Lotion – This lotion from EOS also has a unique shape that is easy to find in your purse! The lid snaps closed and stays closed, which is important when throwing it into your bag.  The lotion itself smells wonderful and doesn't leave your hands greasy.
4. REVLON Self-Adhesive Lashes – I LOVE THESE.  Why didn't I think of these first?!  These lashes come with a black adhesive already on them, making your beauty routine a bit simpler.  The adhesive is also awesome because it doubles as eyeliner and really covers the strip of lashes!  These beauties can be reused up to 5 times, in my own experience, before you have to move on to another adhesive strip (which you re-apply yourself, and it's quite easy!).
5. It's a 10 Miracle Leave-in Product – I got this as a free sample a few weeks ago and I've been using it ever since.  It is a bit pricy, so I'm debating purchasing my own full-sizer bottle of it, but so far I think it is an awesome leave-in product for people who prefer to blow-dry their hair.
6. Too Faced Lip Injection Color Bomb! – I'm thoroughly obsessed with this product!  My favorite balm from this product line is called "Never Enough Nude," it's the perfect pinky-nude color.  Too Faced calls these Color Bombs "moisture plumping lip tints" – but I would say that they wear more like a lipstick/lipgloss hybrid.  They're not quite as thin as most lip tints are.  Also, this product makes your lips tingle and "plump up" for about 30 minutes, which can be kind of alarming at first, but it doesn't make your lips look strange or out of the ordinary (which is great if you're not a Kardashian, ha).