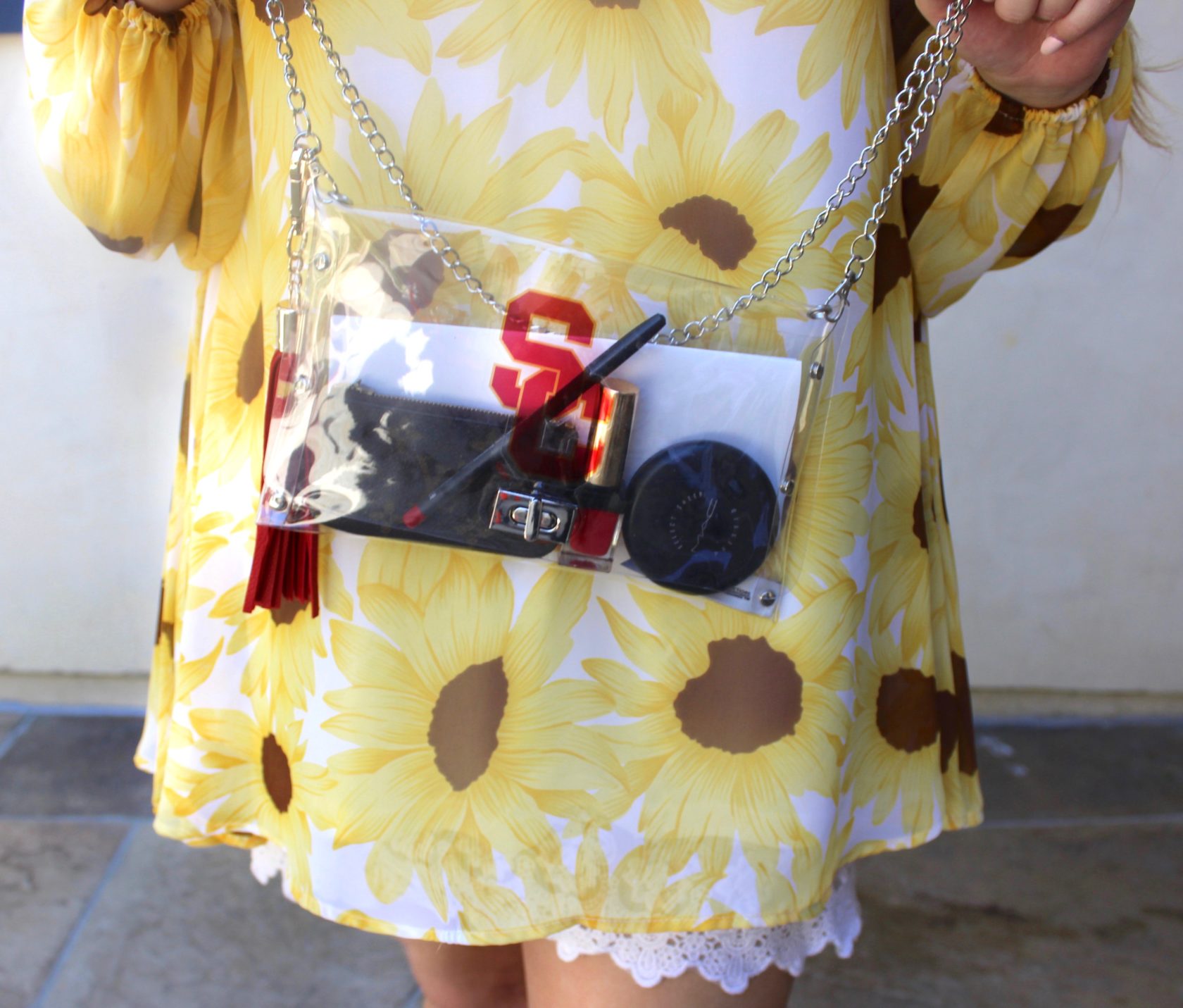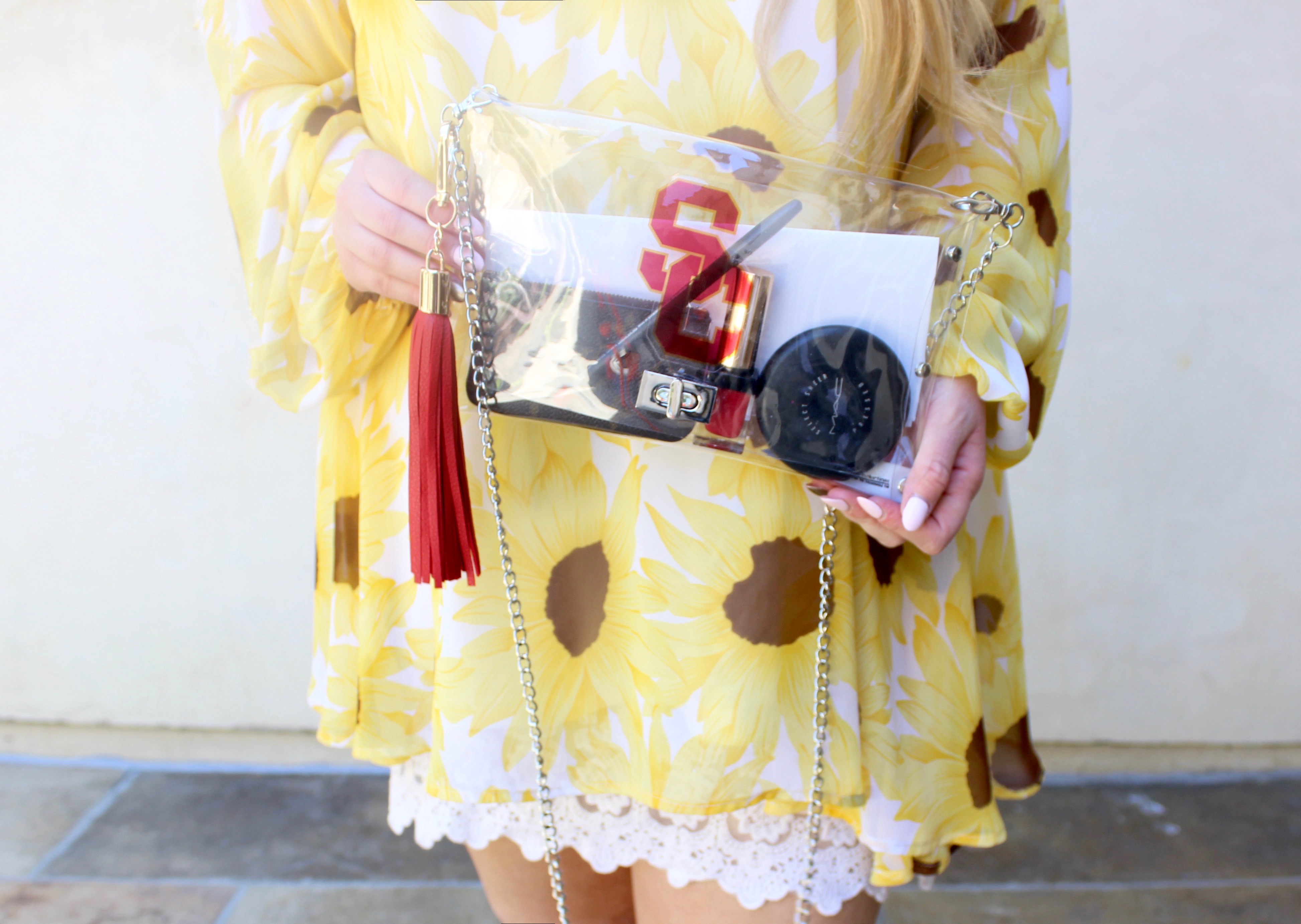 As a recent USC Grad, I take my football game days very seriously! There is no better time to catch up with old friends and enjoy the Southern California sunshine than at a USC football game. In recent years, USC has taken several steps to make sure that game days are fun and safe for everyone, which is why I am writing about Little Earth Productions.
With the implementation of a clear bag policy at the LA Coliseum, all handbags and items entering the stadium have been limited to clear totes, plastic storage bags, and small clutch bags. This is the case with many colleges, starting this season! After hearing about the new policy, the fashion school graduate within me panicked. I had never owned a clear handbag and was fearful that I would end up carrying around my belongings in a plastic gallon bag from the supermarket (YIKES, haha). But, with change comes opportunity – which is why Little Earth Productions has created a stylish line of game day handbags that are stadium-approved and sports fans approved. You can see their whole line of stadium-approved bags here.
As one of the leading licensed manufacturers for sports apparel, Little Earth offers a wide range of fashion accessories and apparel for more than 170 teams. They sell spirited items for all teams in the NFL, NBA, MLB, and NHL as well as more than 60 colleges. Today I'm going to be talking in depth about their line of clear purses that are stadium-approved and fashionable, meaning that you can get through the security line at nearly any sporting event quickly, without sacrificing in the style department!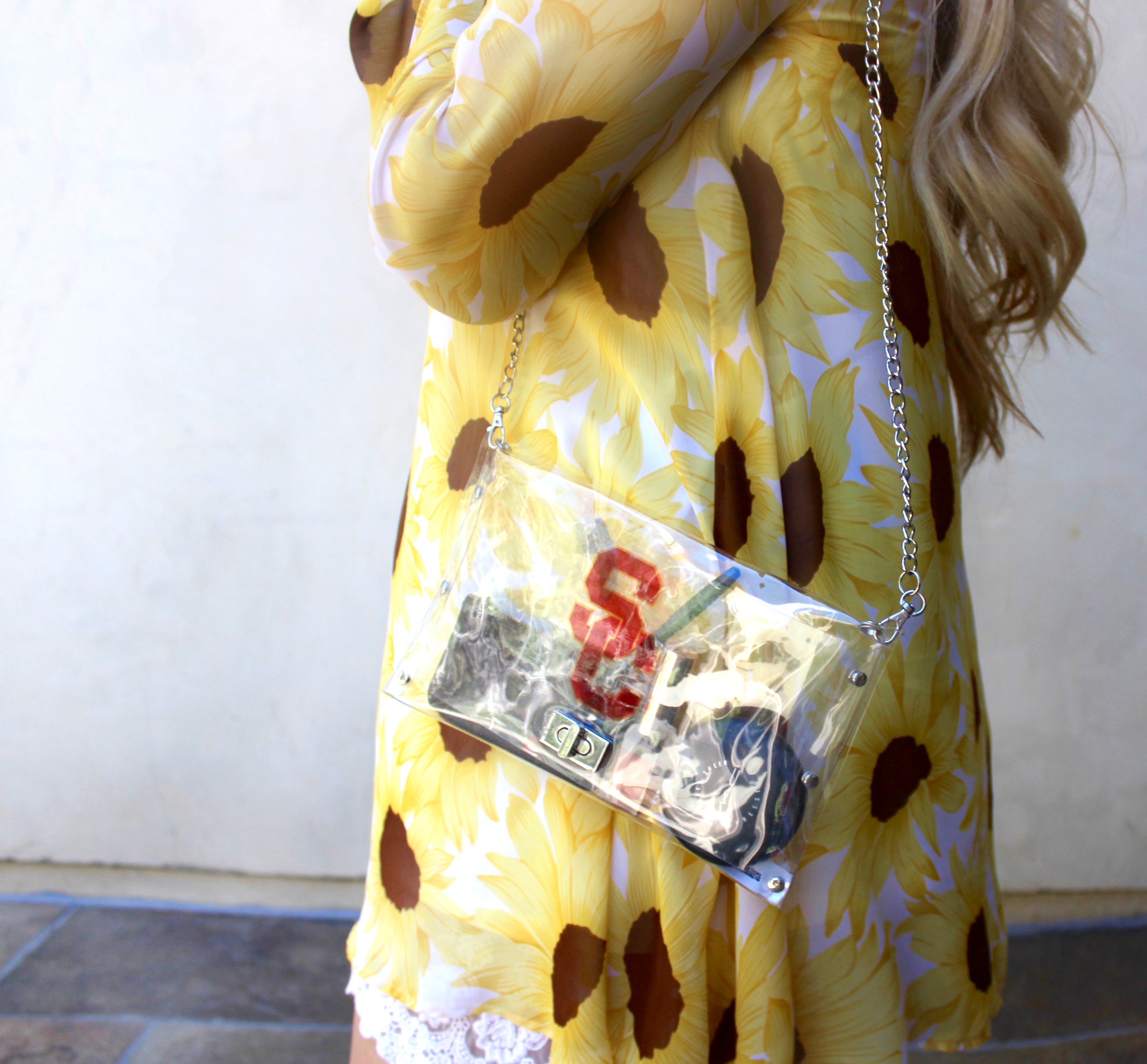 I used my USC Clear Envelope Purse from Little Earth at the USC game last weekend. I was stopped several times by complete strangers who wanted to know where I got my bag! In addition to being stylishly spirited, the bag proved to be a time saver – I was SO thankful that I got through the security line quickly and easily. I saw some fans struggling to consolidate their belongings in the 82+ degree heat and I was so happy that I had brought a stadium-approved bag. My boyfriend and I somehow managed to sneak away from the USC tailgating commotion and snap a couple photos before the game and I love how they turned out! The day of the game also happened to be my birthday, so it was nice having a purse that I could easily wear to lunch afterwards and still look stylish in. I actually also wore this bag a few weekends ago while watching the USC vs. Alabama game at a restaurant near my house, so I can honestly say that it is stylish both inside and outside of a football stadium!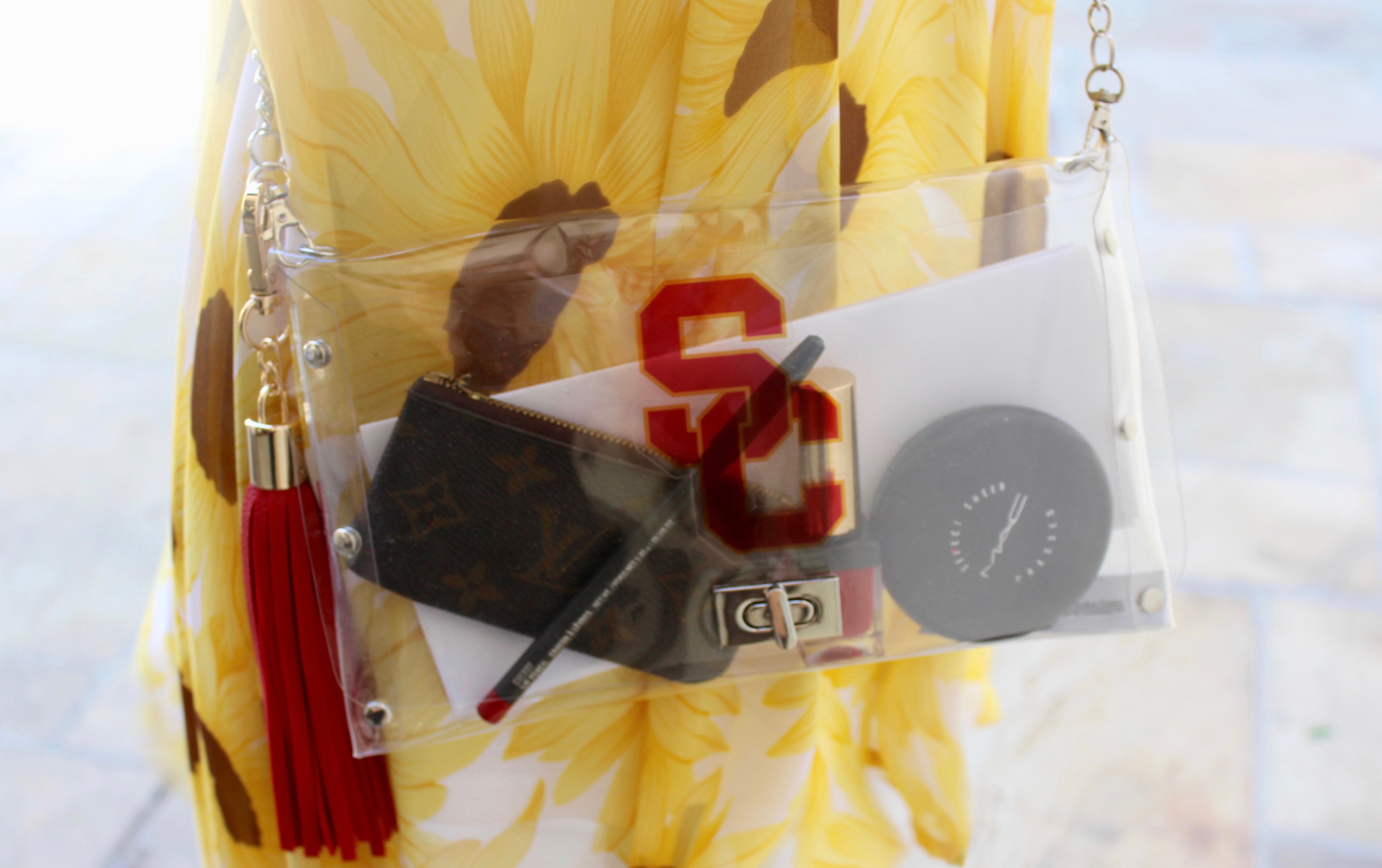 My Clear Envelope Purse features the iconic interlocking SC logo (it also comes in a Waist Pack and larger Carryall!). The bag is very sturdy and holds quite a bit, as you can see. I am able to fit all of my essentials into the bag and I really appreciate how high-quality the hardware is. Because the turn lock closure is so sturdy, I don't have to worry about the contents of my bag slipping out while jumping and cheering (hah). Also, perhaps more importantly, I am not worried about someone reaching into my bag without my knowledge.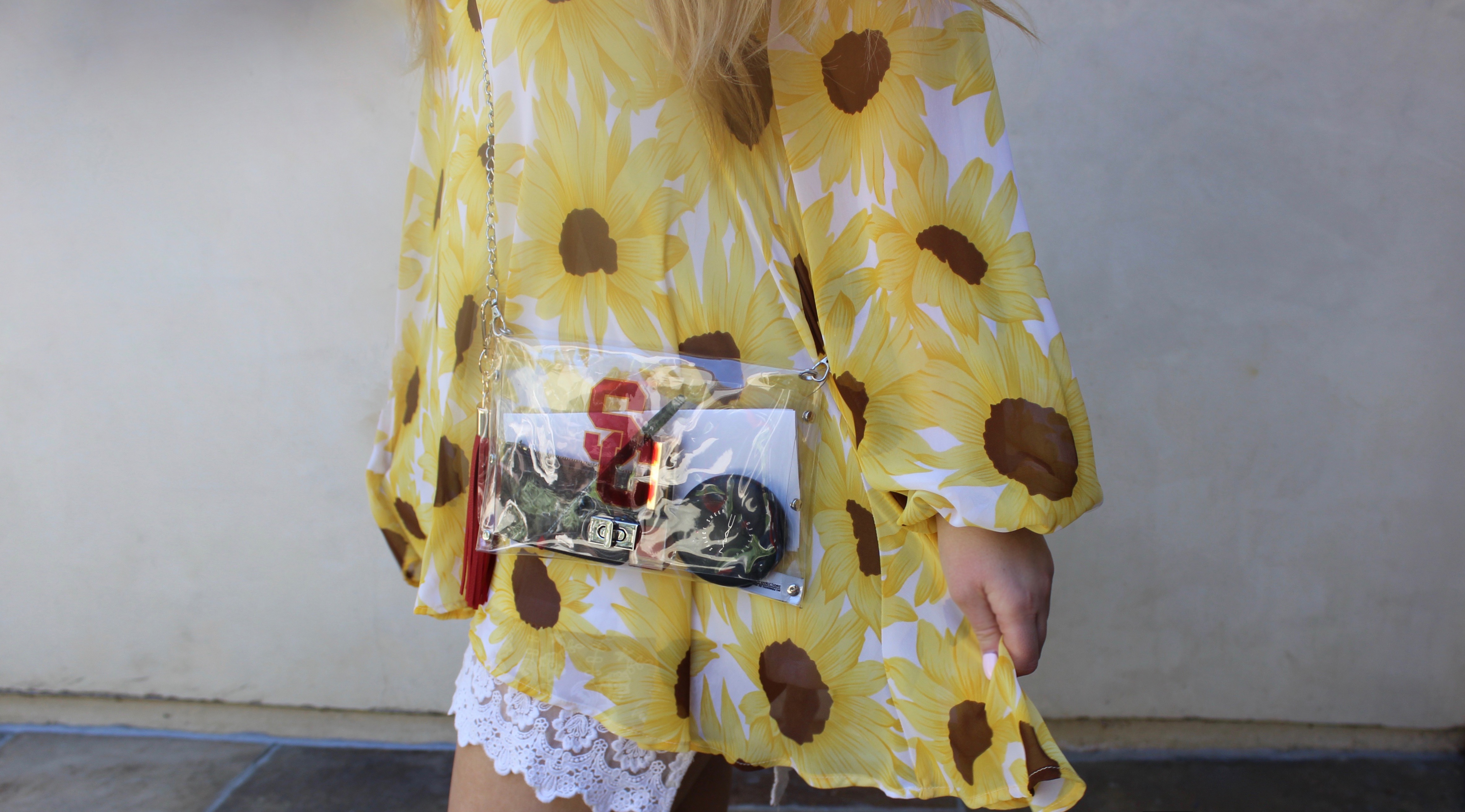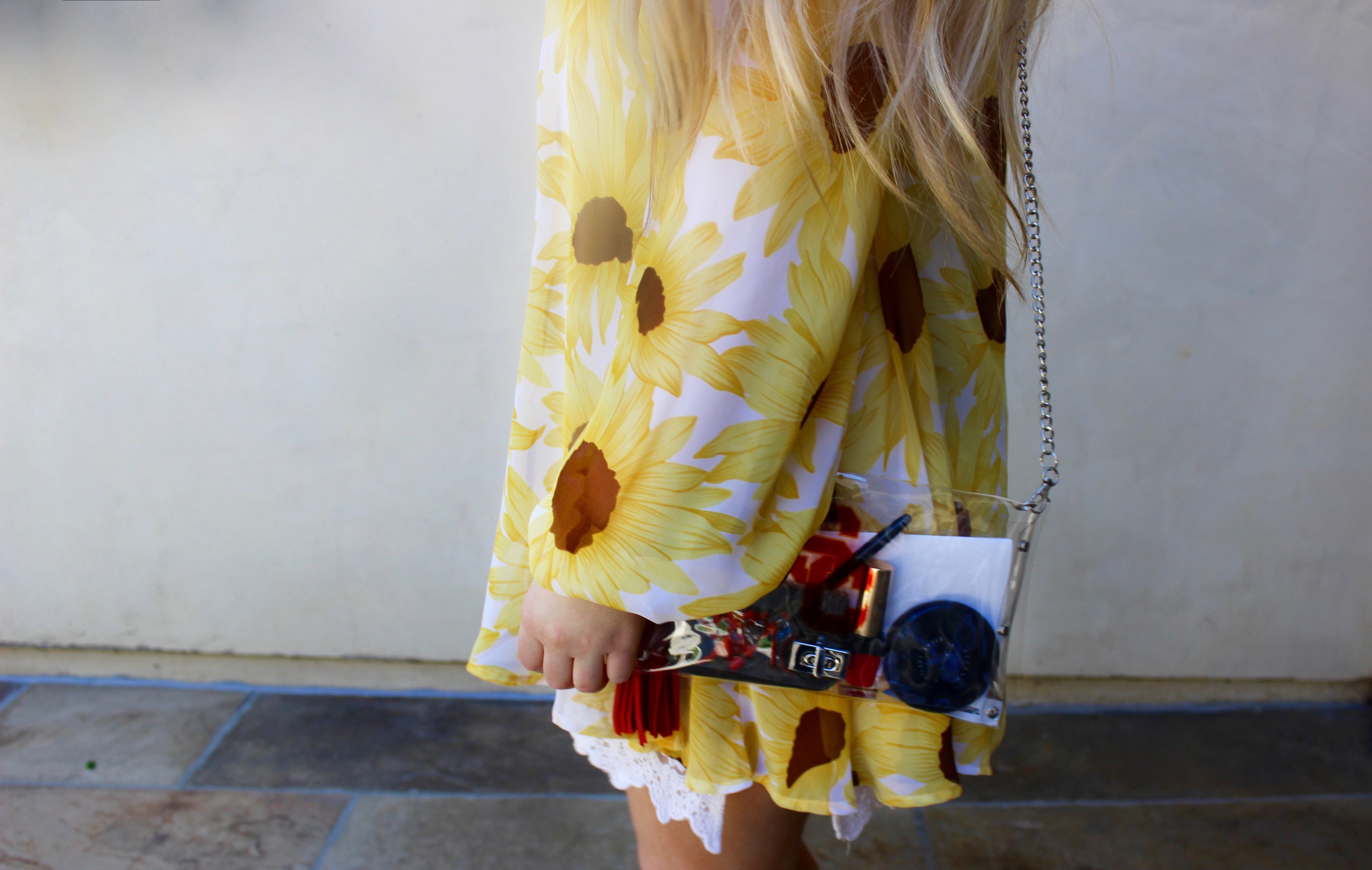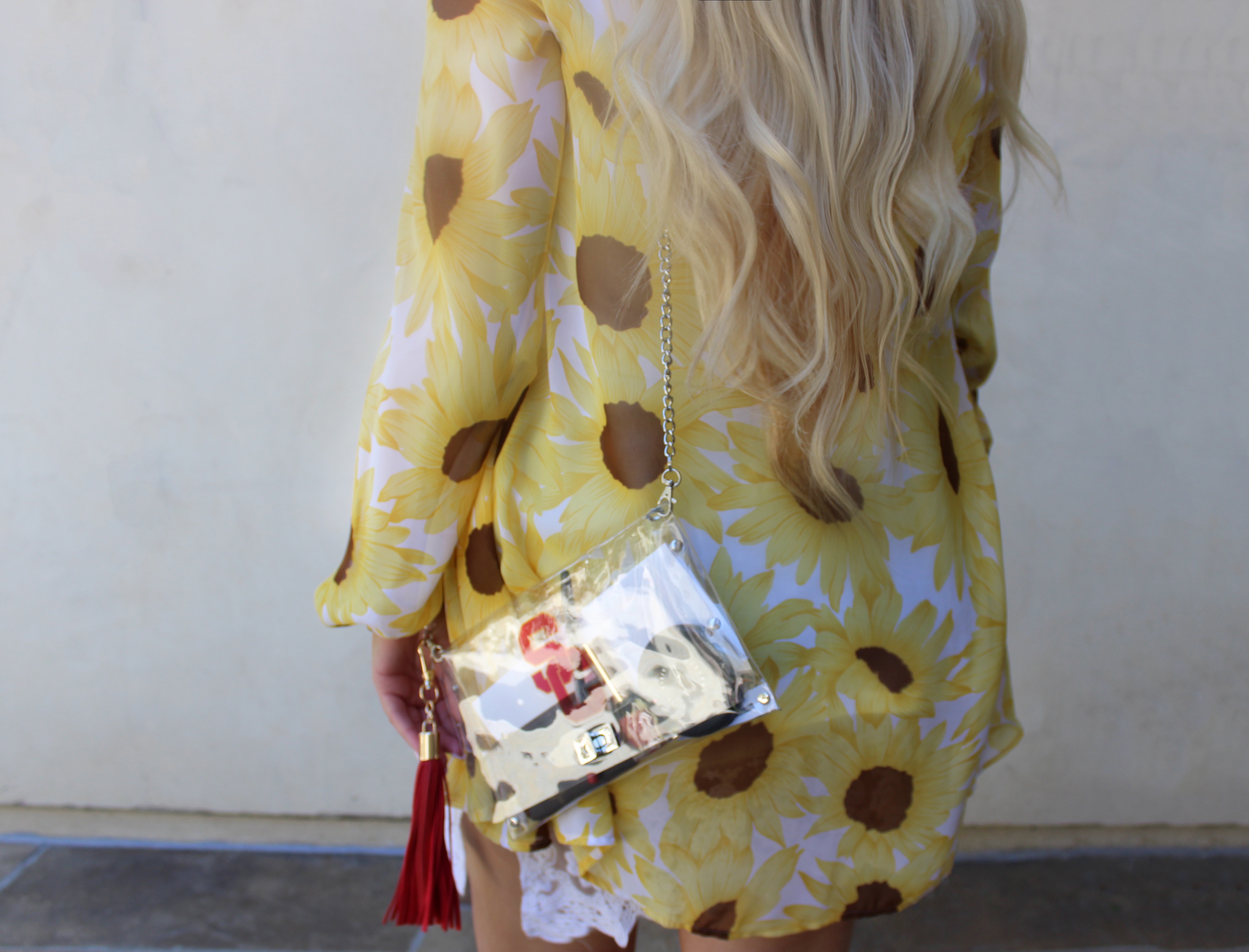 The chain is the perfect length to be worn as both a crossbody and an over-the-shoulder bag, which I really like. It is very comfortable, even after wearing it for several hours of tailgating and walking quite a bit. Overall, the bag felt light on my shoulder and did not snag my dress at all, making it my new go-to game day bag.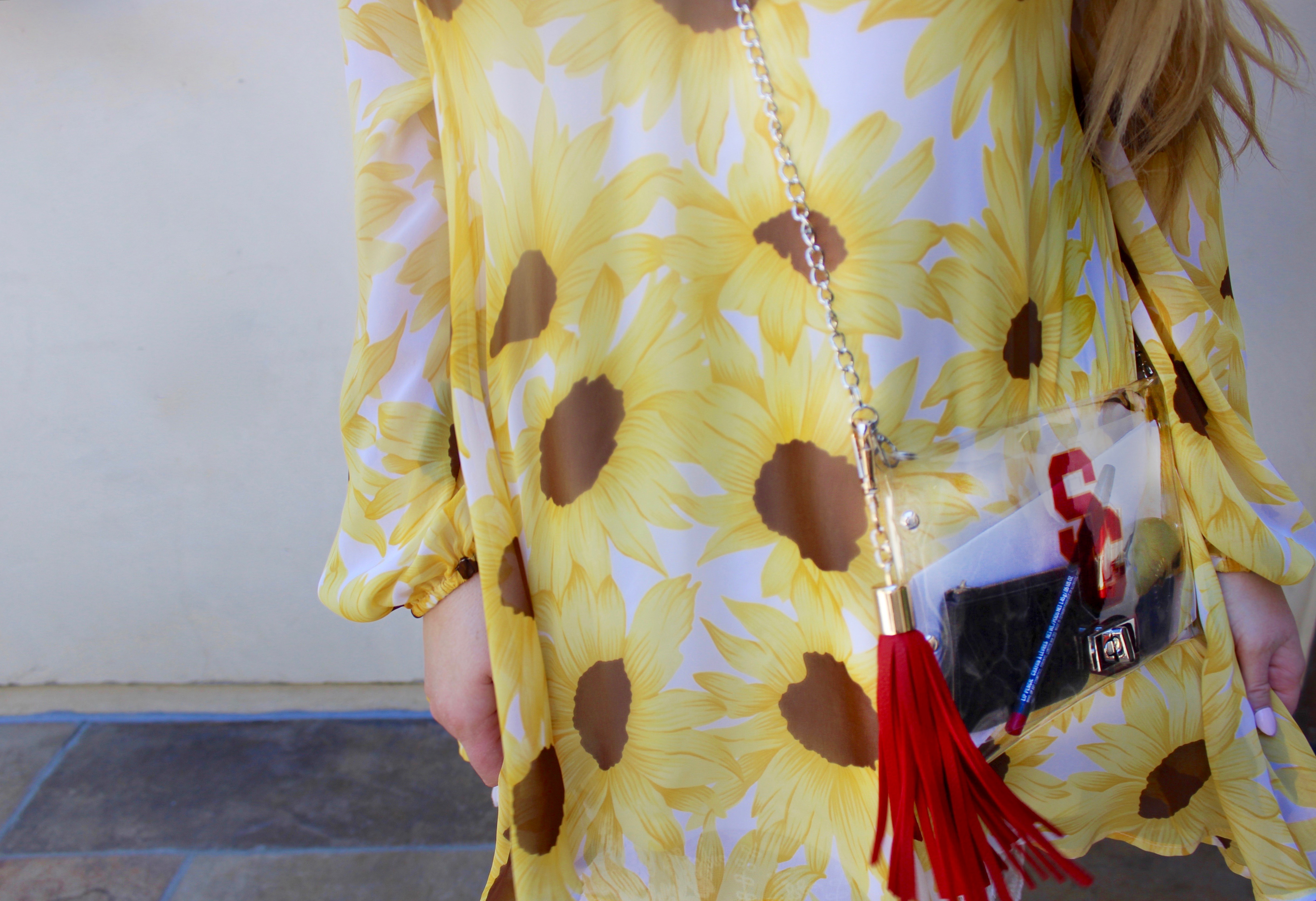 I also wanted to add that you can easily clip a spirited key chain or a purse charm to the chain and "make it your own." I spontaneously clipped my car keys and red tassel key fob onto the side of the bag and it turned out very cute. Also, the chain strap is detachable, so it can be worn as a clutch as well! I think the purses from Little Earth would make a FANTASTIC gift for anyone that is a USC fan, newly admitted student, or a soon-to-be graduate. In fact, any of the stadium-approved bags on Little Earth's website would make amazing gifts to any sports fan since they cater to so many teams, colleges, and leagues!
Someone carrying a lot of personal items or an extra sweater/hat might like the Clear Carryall Crossbody Purse. I saw quite a few moms carrying this bag at the game and it fit a ton of stuff, so I would check that bag out if you are someone that likes to travel with a bit more than just the essentials.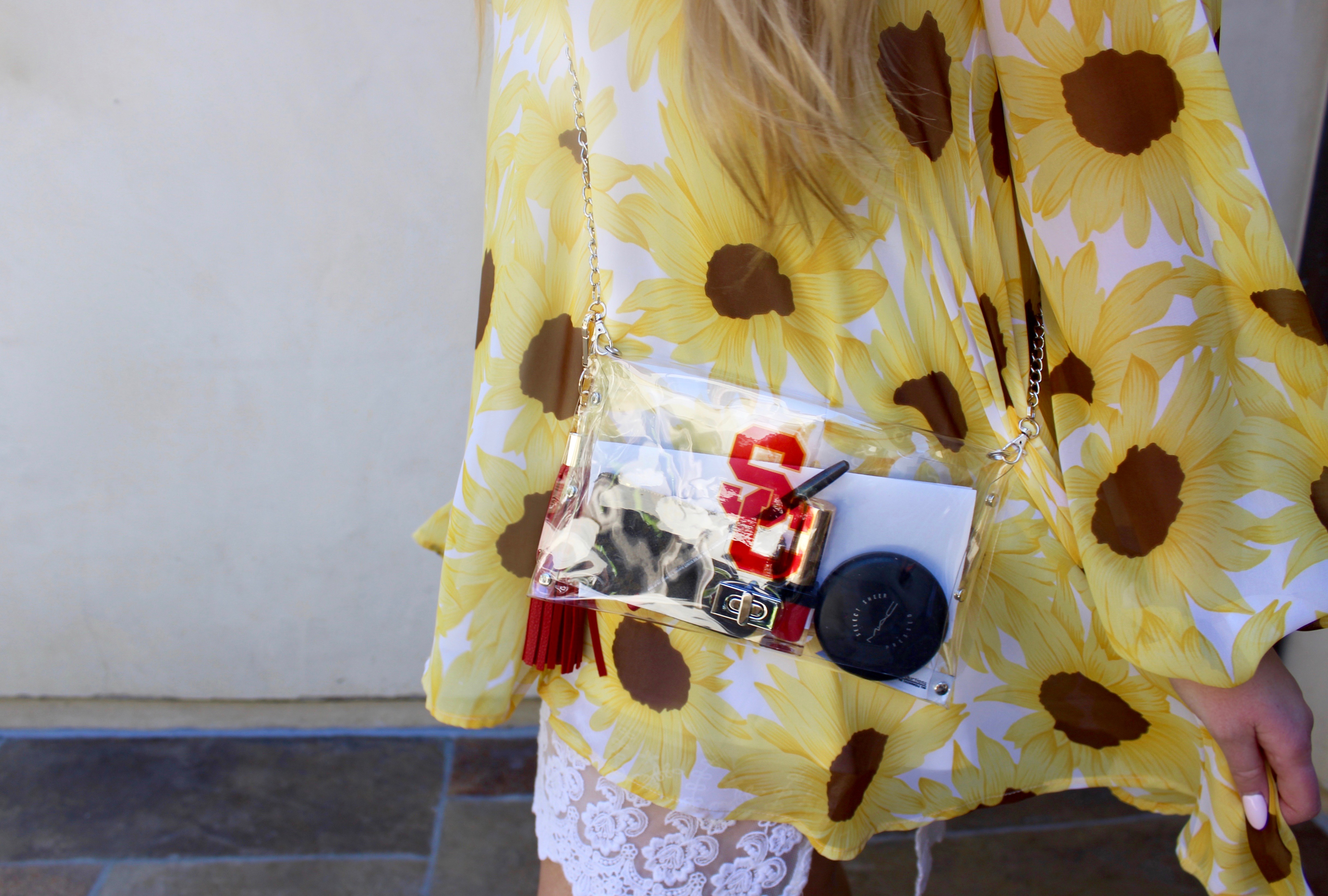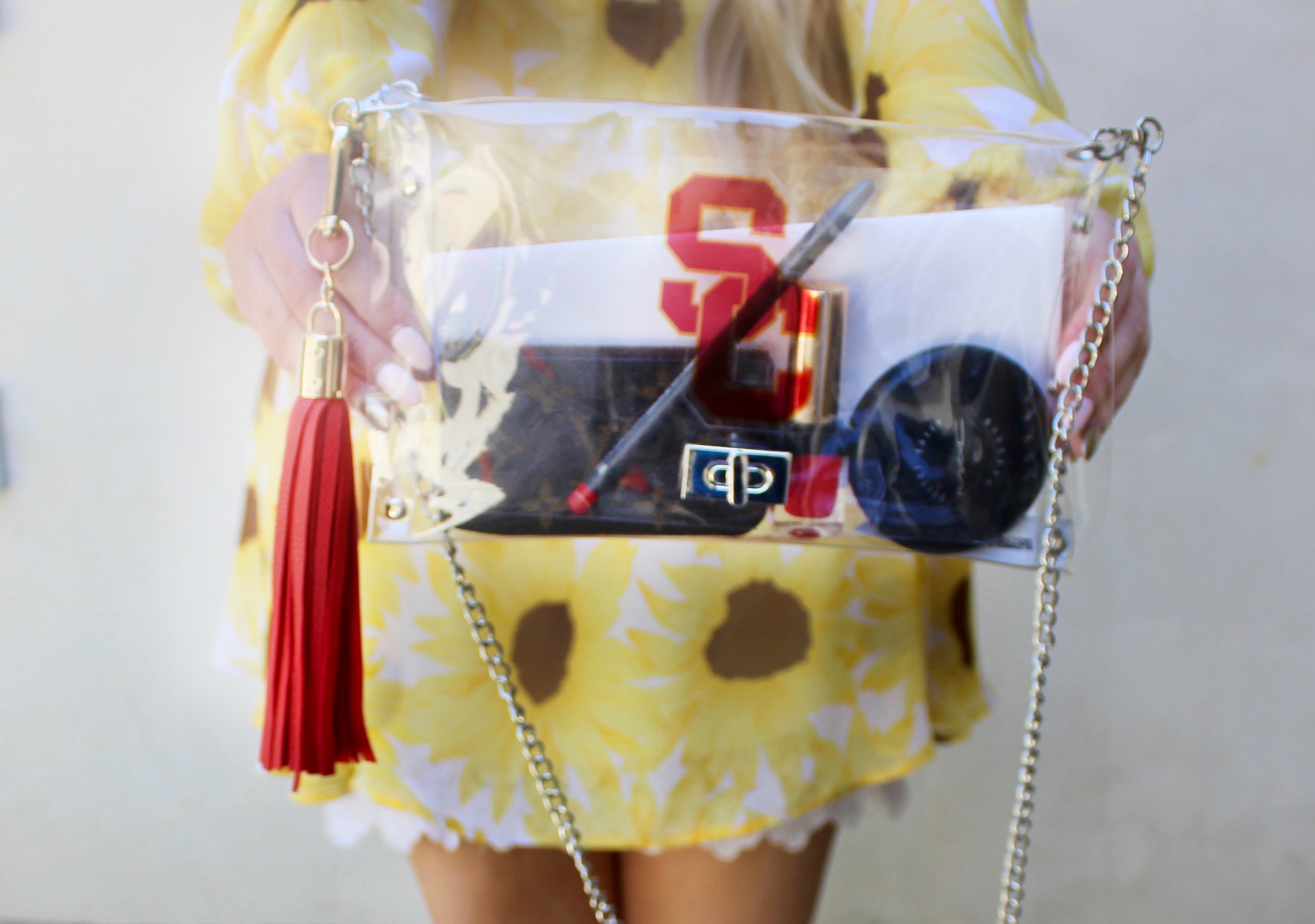 I know I'll be using Little Earth Productions' clear stadium-approved bags to cheer on many other teams in the future! I might just have to talk my boyfriend into getting Rams tickets with me since I love their LA Rams merchandise, haha! Overall, these bags are fashionable and functional, making them an amazing buy (did I mention that their clear bags are priced between $19.99 – $24.99?!).
I'll be sporting my bag up in the bay area this weekend for the USC vs. Stanford Weekender game. You can follow along with my trip by visiting my Instagram. While you're at it, make sure to check out Little Earth Productions' Instagram // Facebook page for the best in game day apparel + accessories! If you'll be wearing a bag from Little Earth at the next USC home game, I'd love to do a meet up and take a photograph or two with our bags 🙂