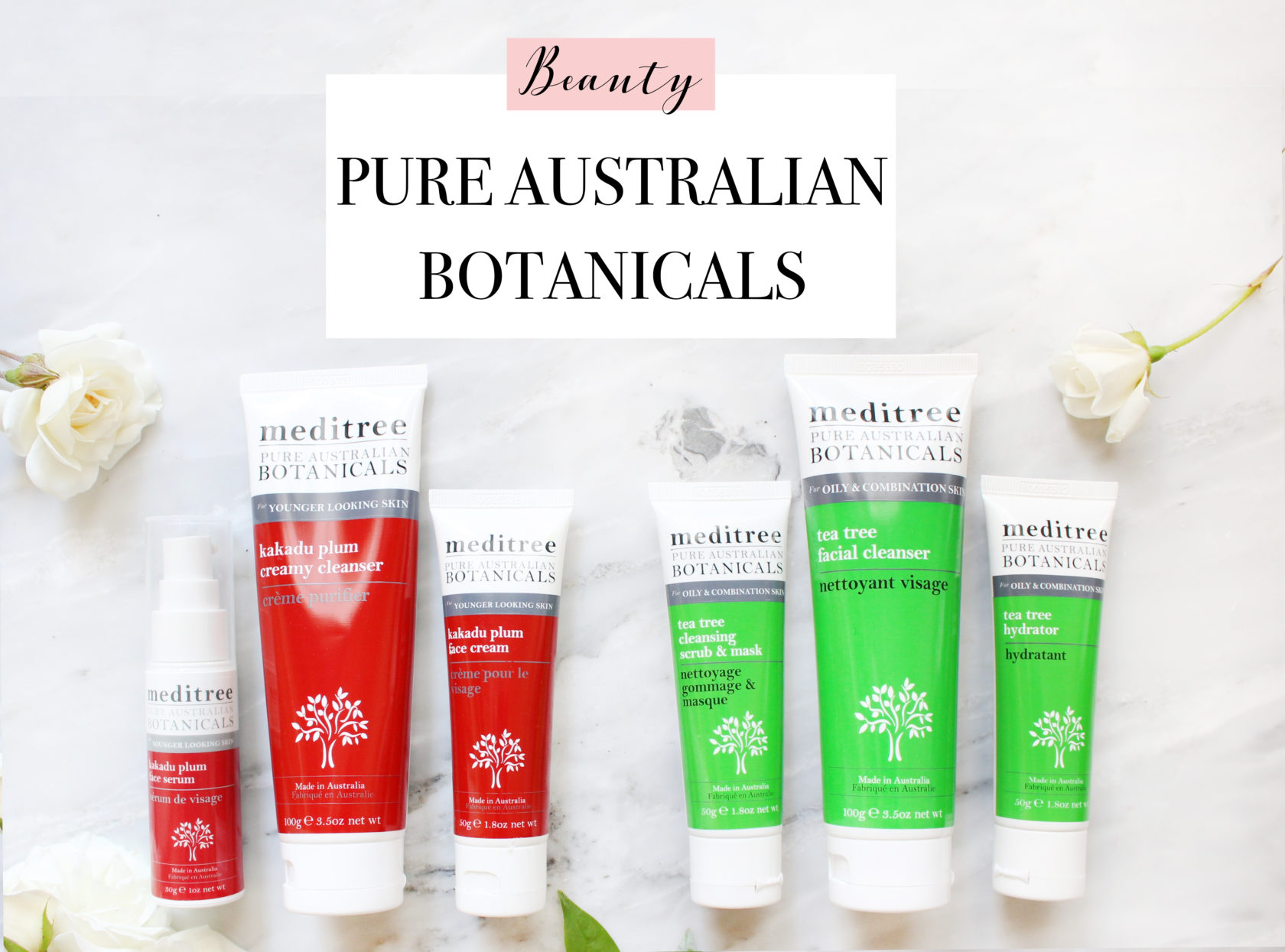 I'm the type of girl who is always looking for the next best beauty product, so I spend quite a bit of time researching facial products that are effective and safe to use. An unfortunate recent experience with an allergic reaction to a less-than-perfect product in my skincare regimen caused me to stop and look at what is actually in my beauty products. I talked with my dermatologist about all of the different items I had been using and decided to revamp my skincare routine and see if that showed any improvements for my red, irritated skin.
So I tried something new. I started using MediTree's new line of Pure Australian Botanicals that is 100% naturally derived and oh-so-good for you + your skin. This luxurious line of products was developed and created in the Byron Bay Shire, Australia, and helps all types of skin stay clear with a natural methodology in mind. I know that "clean beauty" is the latest trend, but freeing yourself from synthetic dyes, phthalates, unnecessary harmful fragrances, and many other harmful ingredients should NOT be a trend, it should be a standard. The following is a quick list of things that you will not see within this post.
All products featured in this post are free from:
-synthetics
-mineral oil
-petrolatum/paraffin wax
-silicones
synthetic parabens
-propylene glycol
-ethanol amines
-polyethylene glycol
-sodium laurel sulfate
-synthetic dye
-fragrance
-phthalates
-animal byproducts
-animal testing
Okay, I know, that's a long list, but I'm trying to make a point here! These products are great for your skin. Finding luxurious, well-made beauty + skincare products that meet my quality expectations is paramount. I don't want harmful ingredients or irritants in my skincare regimen – because wouldn't that defeat the purpose?! The products that I am about to share are not tested on animals, are 100% vegan, and are australian made + owned. Most interestingly of all – the packaging is recyclable! The tubes and caps have a "special enzyme to make them biodegradable in a landfill within 5 years." THAT'S SO COOL GUYS.
A wonderful brand called Nature's Plus was kind enough to send me both of their new collections from MediTree – the MediTree Kakadu Plum Series as well as the MediTree Tea Tree Series. Each series is geared towards a certain skin type and/or environment, which makes it fairly easy to decide which one would be best for your skin. Without further ado, here are the 2 series that I have been using and loving!
---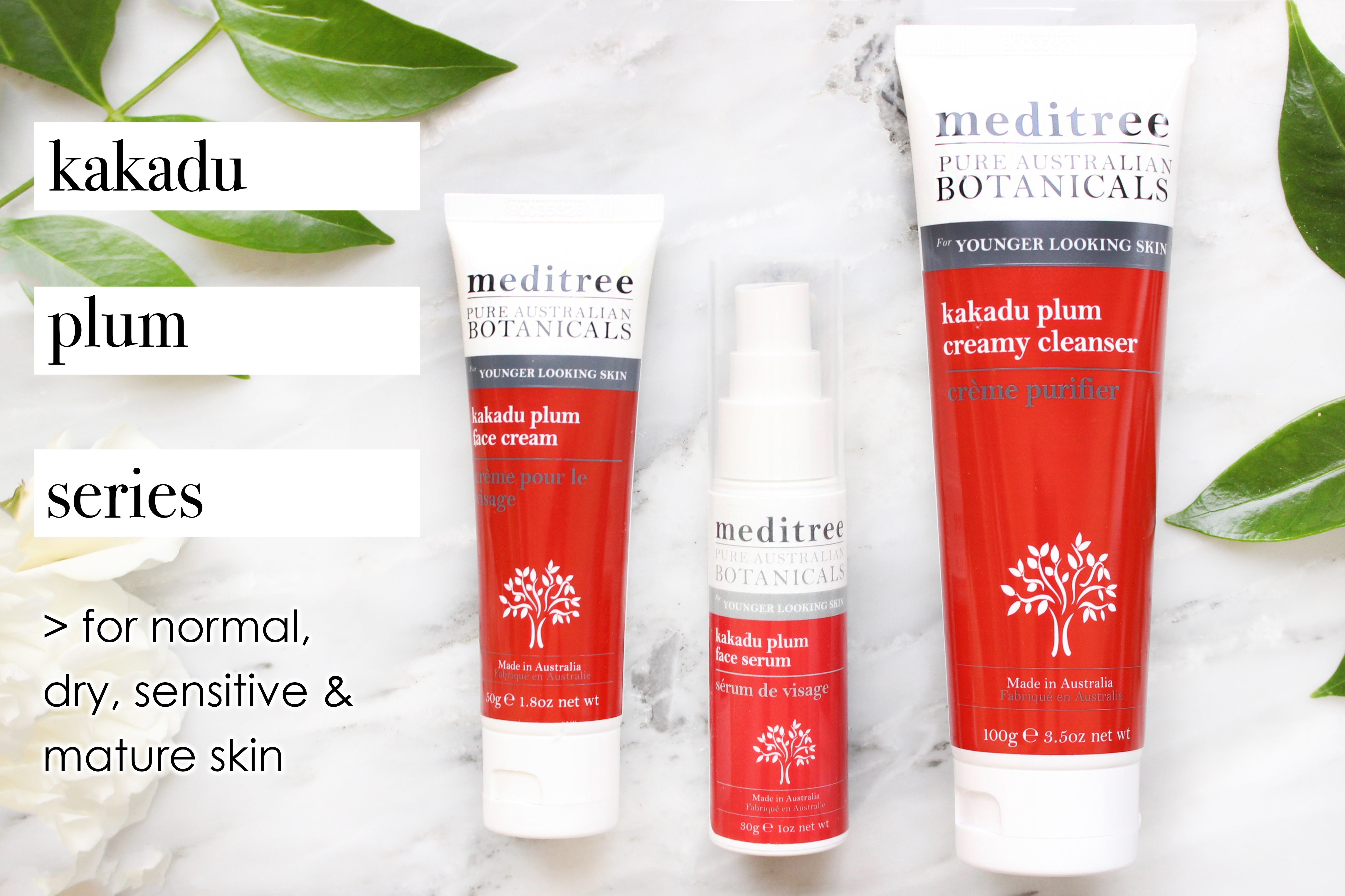 MEDITREE KAKADU PLUM SERIES
I'm going to start off by talking about the MediTree Kakadu Plum Series since it was my favorite of the two! It is best for normal, dry, sensitive, and mature skin. MediTree also recommend this series for use during the winter months, while in less humid climates, or while experiencing regular/prolonged exposure to air-conditioned environments.
This particular series consists of a Creamy Cleanser, Face Cream, and Face Serum. Here are the details on each of the 3 products in the MediTree Kakadu Plum Series. I made sure to touch on the key ingredients and the benefits that they have to offer your skin!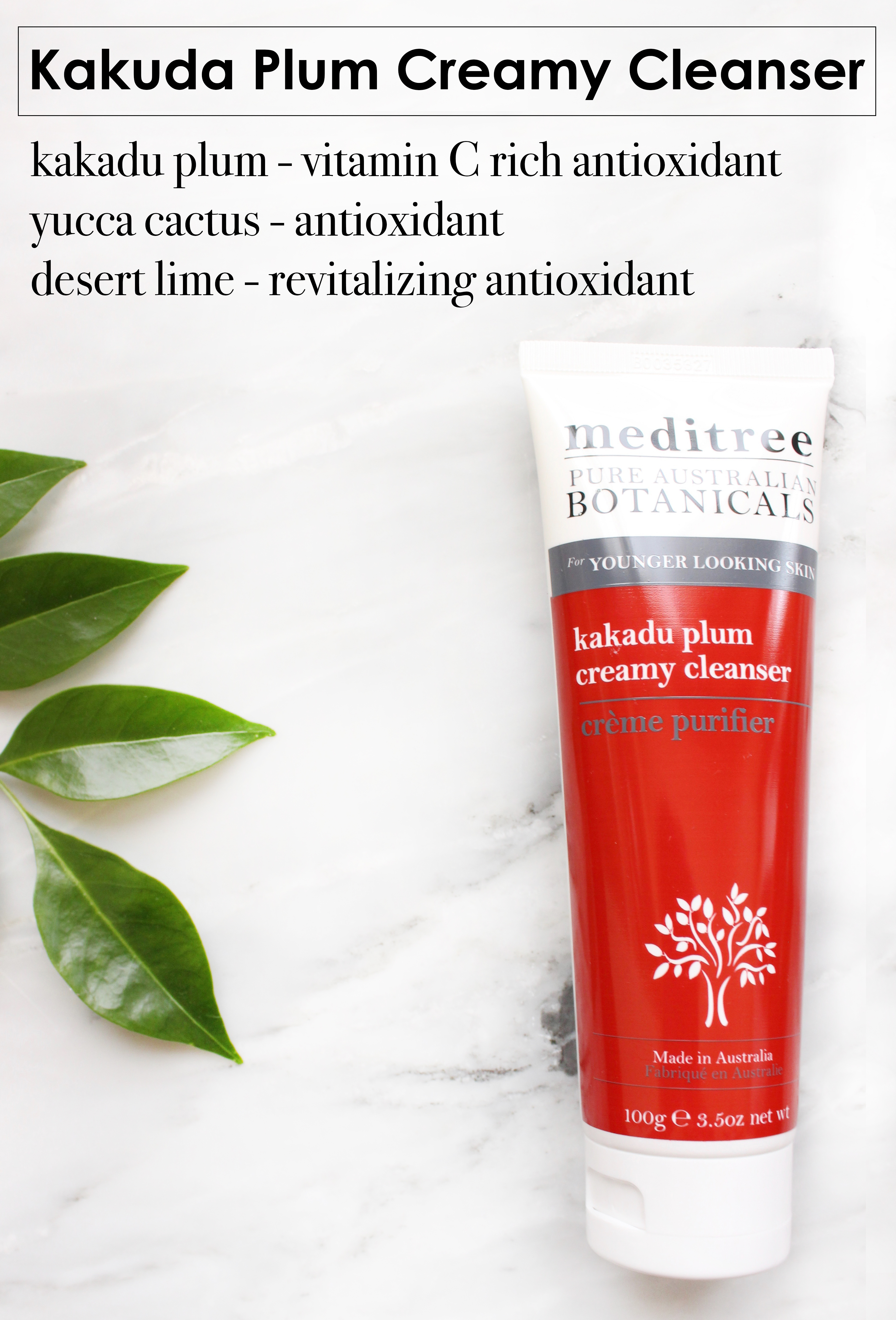 KAKADU PLUM CREAMY CLEANSER
This cleanser has a creamy consistency and smells light and natural. It does a great job of removing the residue that my makeup wipes leave behind and I like how I can use it in the morning and at night without any irritation.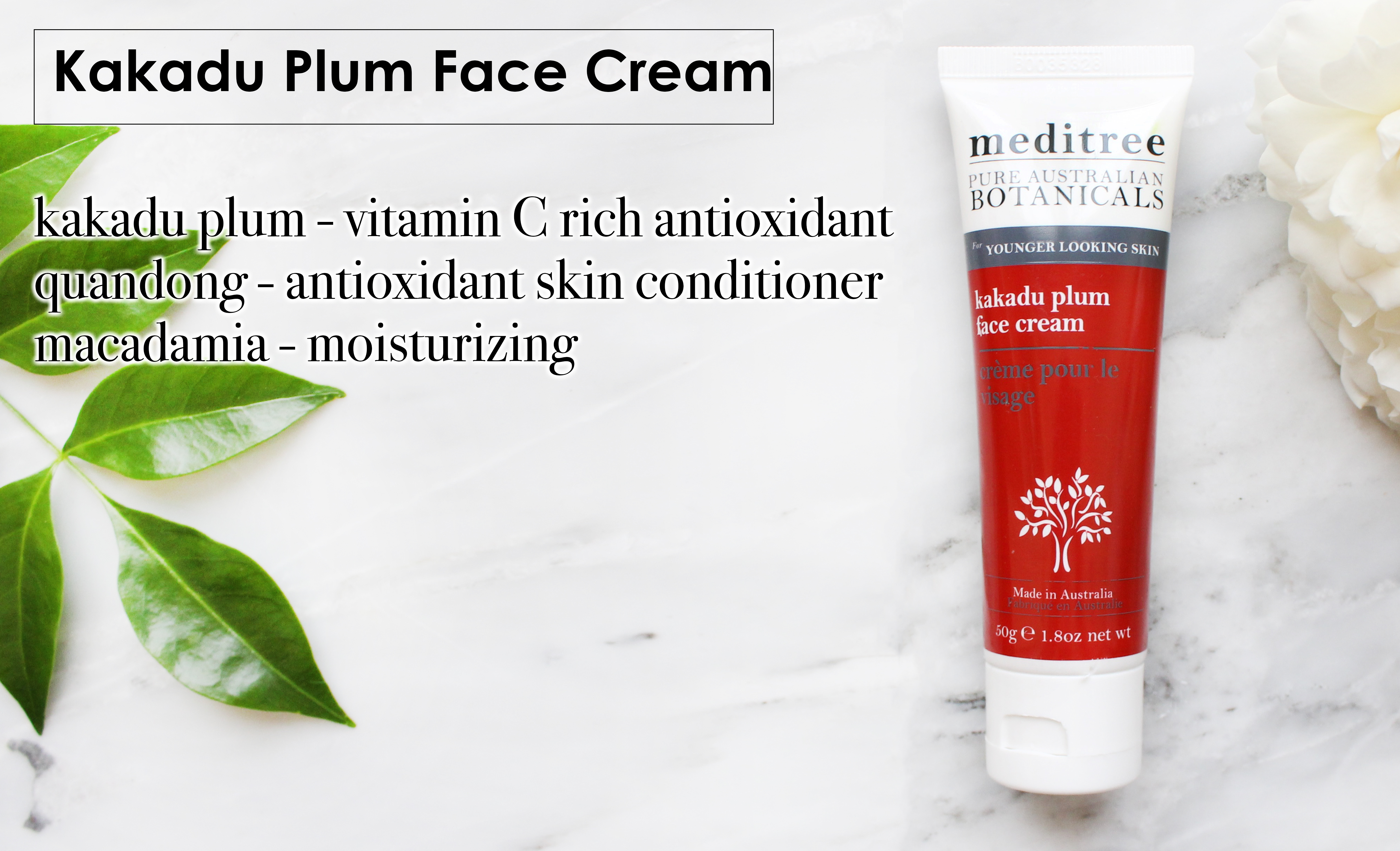 KAKADU PLUM FACE CREAM
My dry skin definitely needed this, especial after dealing with my recent skin/allergy issues! It works to moisturize the skin and also helps to promote collagen production. I love when products do multiple things at once for your skin!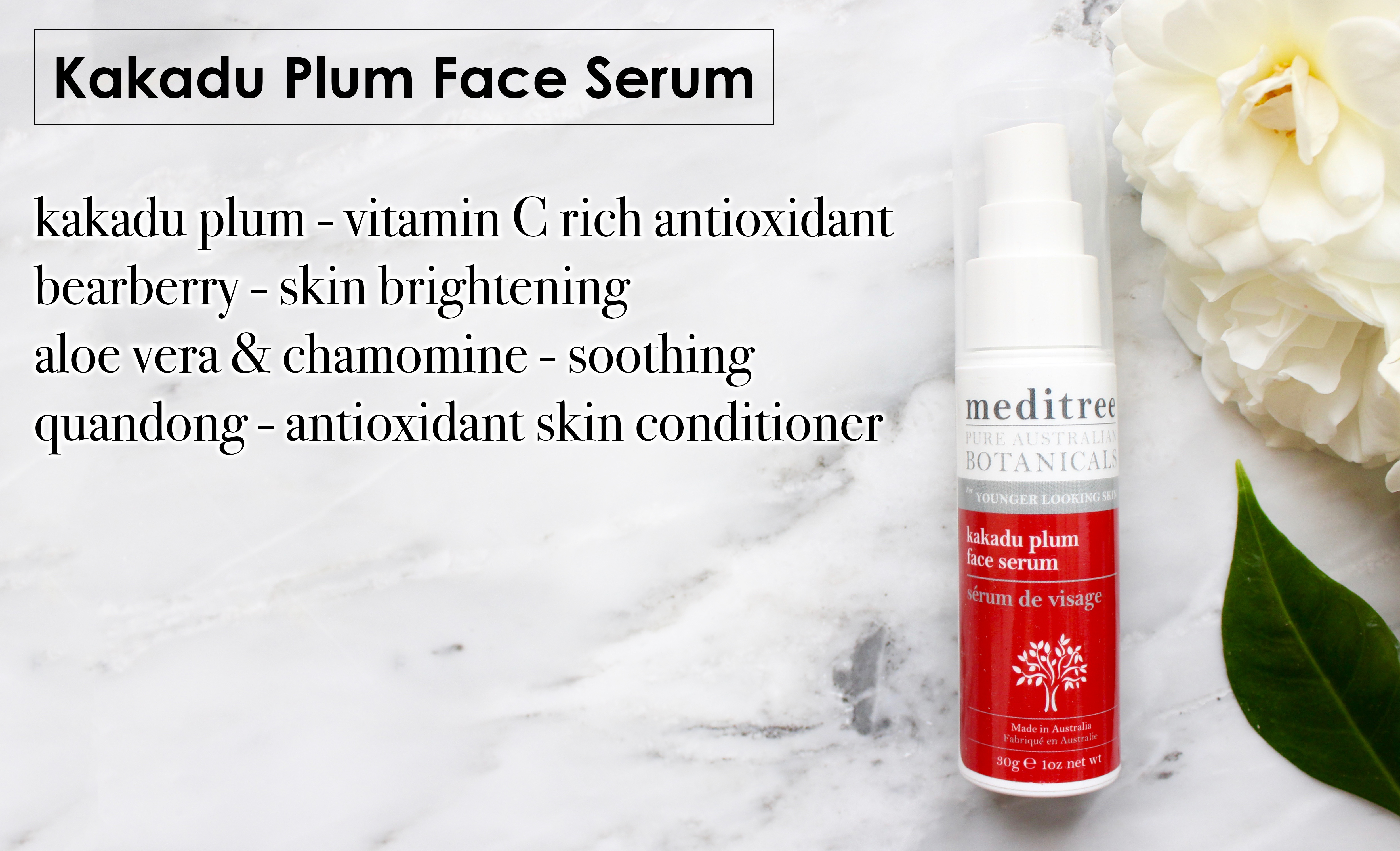 KAKADU PLUM FACE SERUM
This is another collagen promoting product that works to help even out your skin tone and protect your skin. I love using this before bed!
And now for the Tea Tree Series! Read more about that below.
---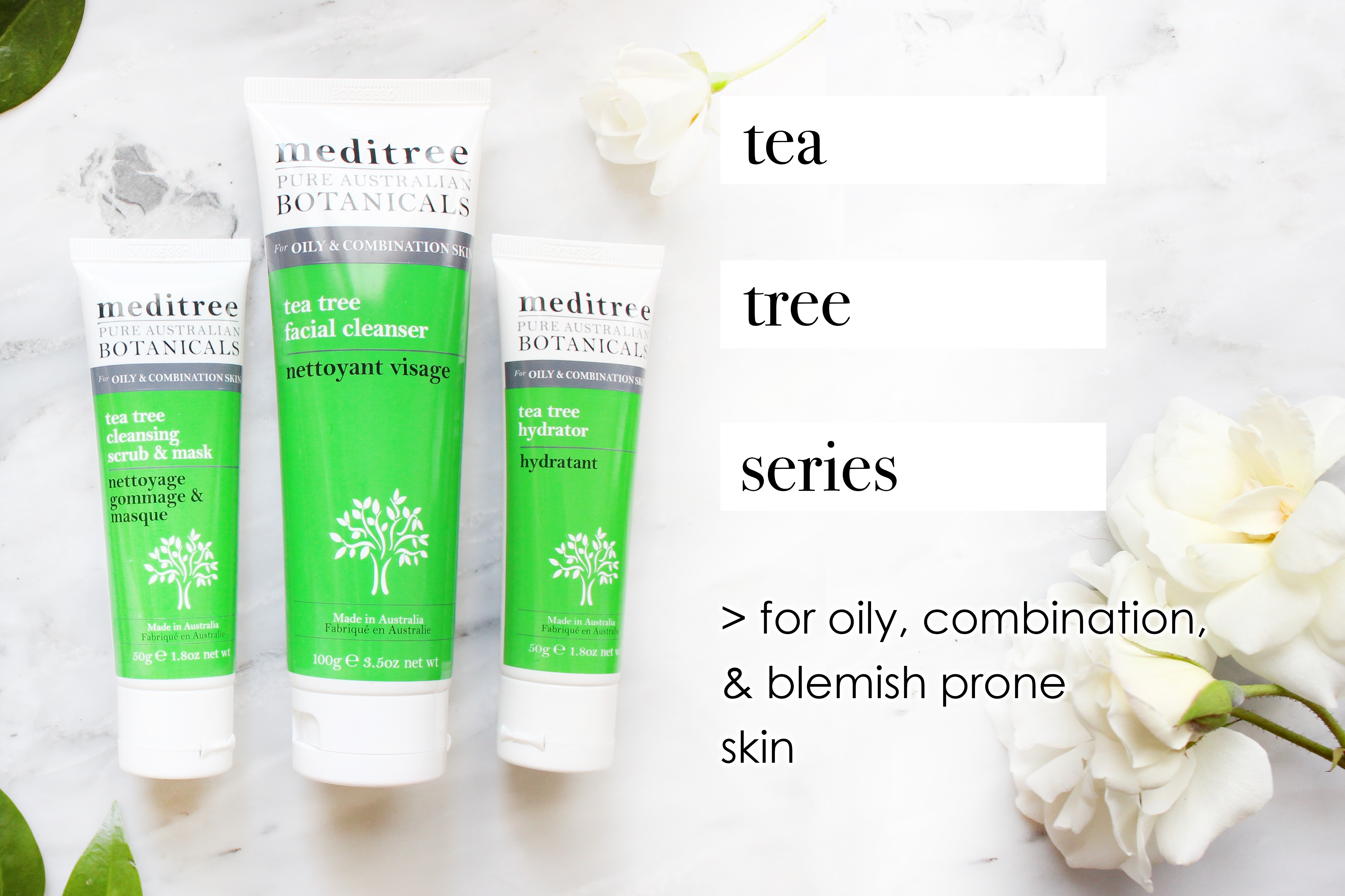 MEDITREE TEA TREE SERIES
The MediTree Tea Tree Series reminds me of a luxury spa experience. I seriously wish that I had used these products back when I was in high school and was constantly searching for acne-fighting products! Tea tree is known for their purity and is a natural cleansing properties, making it an essential part of your skincare routine. Tea tree also helps to combat breakouts as well as oily skin, making it perfect for people with oily, combination, or blemish prone skin.
The environmental conditions that this particular series has been formulated for include: summer, high humidity, and regular and/or prolonged exposure to harsh environments where people sweat and dirt + debris build up. This line consists of a Facial Cleanser, Hydrator, and Cleansing Scrub & Mask. Here are the details on each of the 3 products in the MediTree Tea Tree Series as well as their key ingredients: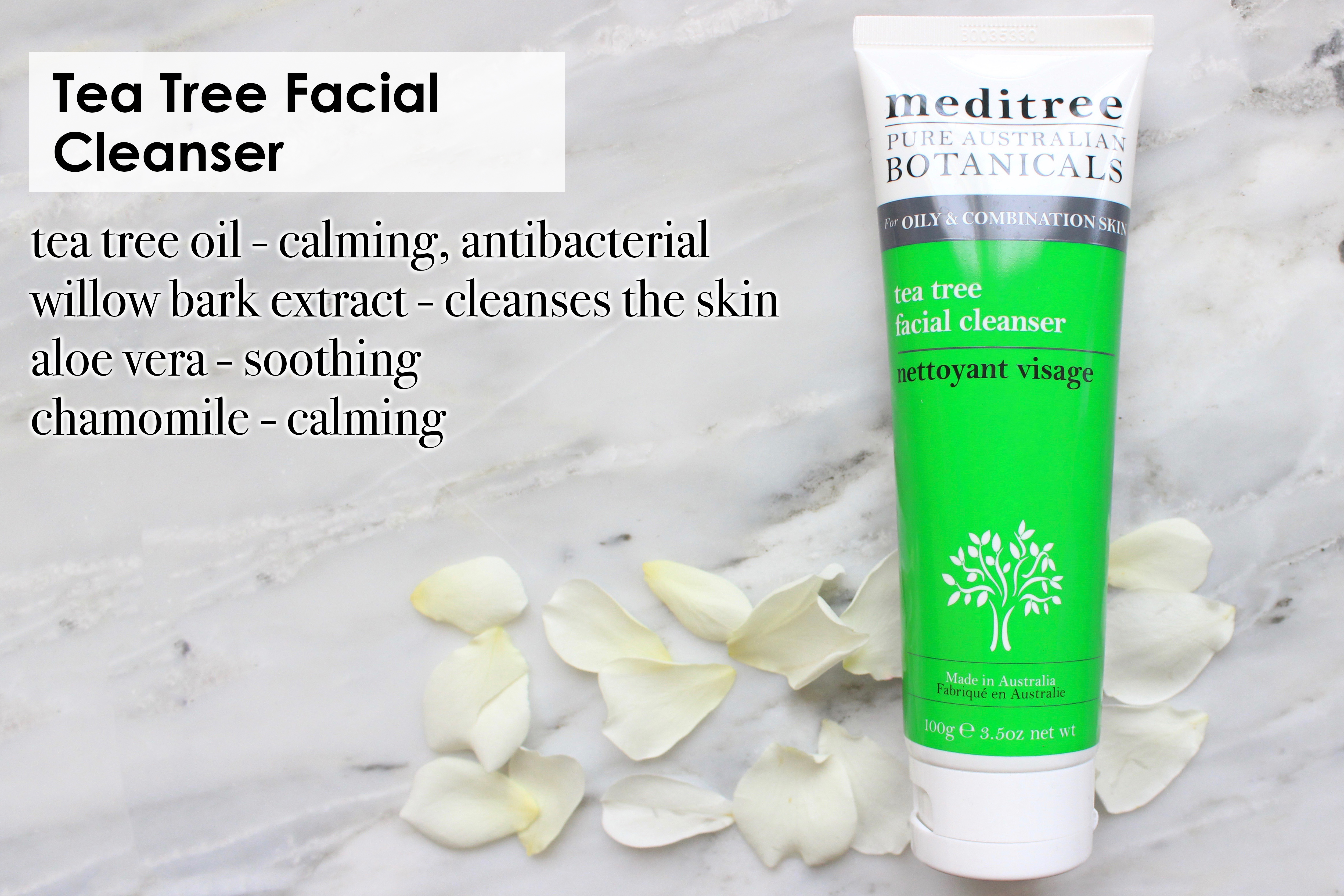 TEA TREE FACIAL CLEANSER
I use this tea tree cleanser in the morning because it gives such a refreshing start to my day! It has a creamy consistency (like the Kakadu Plum Cleanser I mentioned earlier) and feels like it really draws out the impurities in the skin.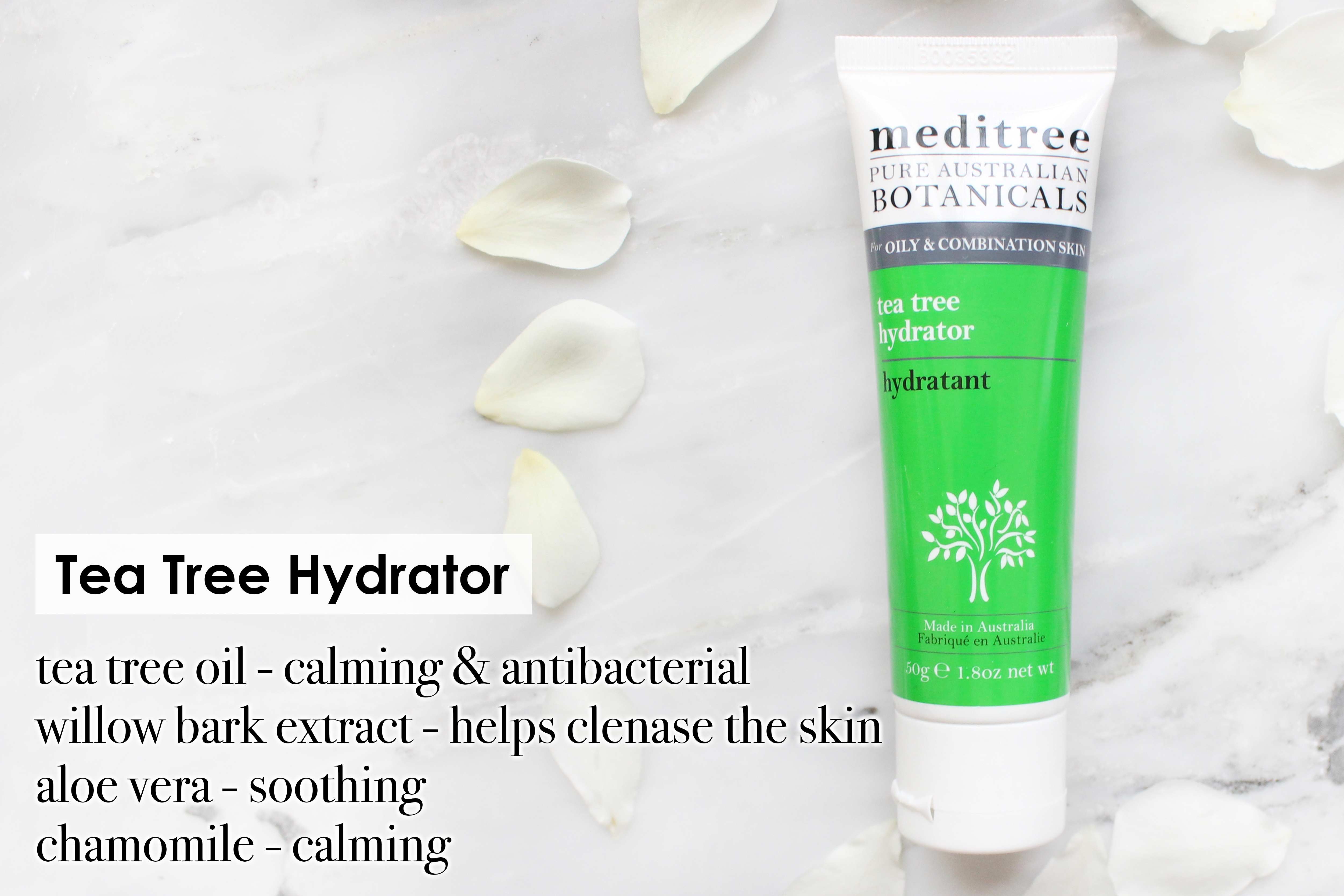 TEA TREE HYDRATOR
This hydrator is perfect when paired with the cleanser I just mentioned! I use the tea tree hydrator right after and my skin instantly feels more awake and energized. It doesn't leave your skin feeling oily, so it is perfect for those who have naturally oily skin and want to mattify. If you have acne prone skin, this is a good hydrator to use on a daily basis because it won't leave you dry or oily.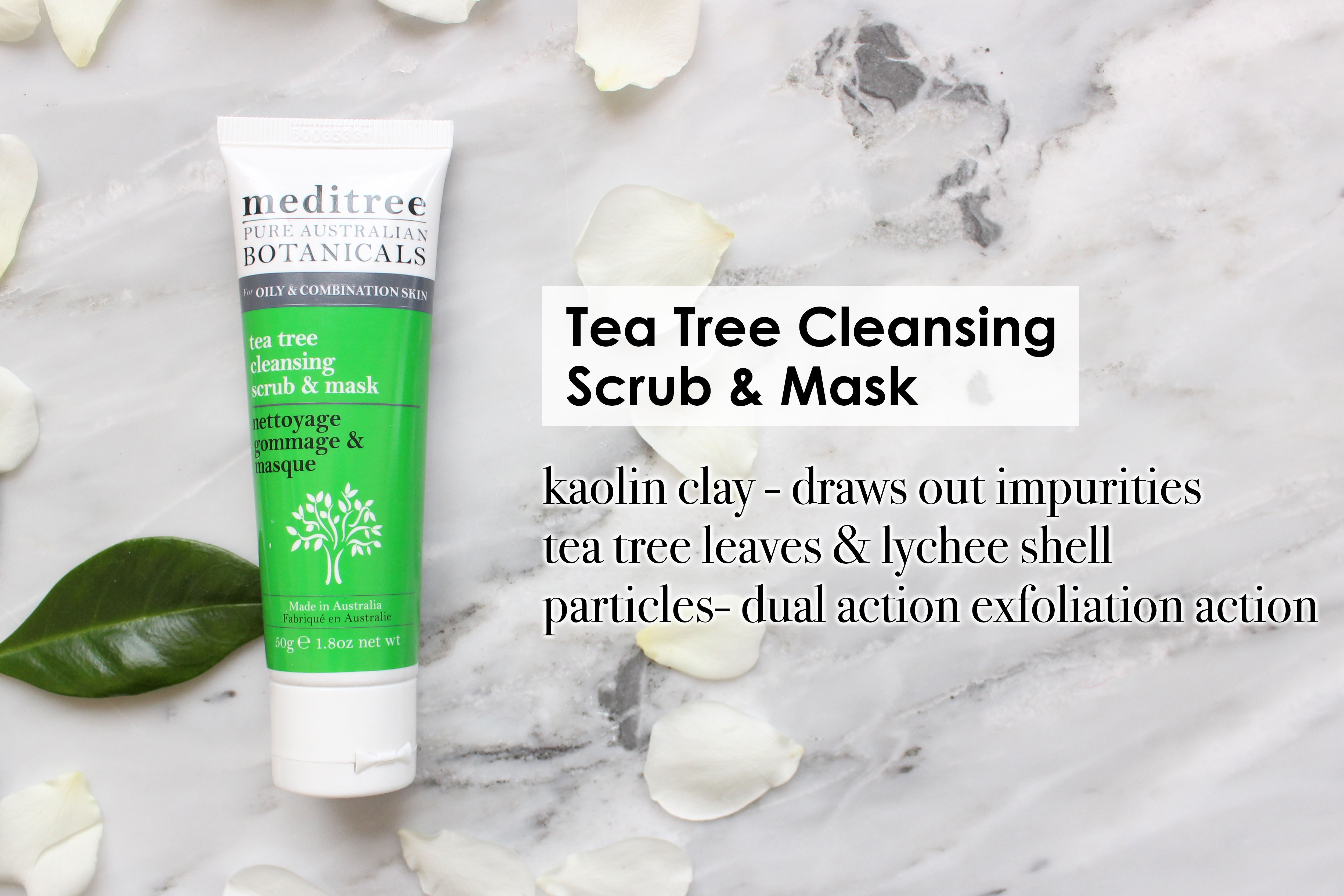 CLEANSING SCRUB & MASK
GUYS, this product feels like such a treat. It is a 2-in-1 formula with a scrub that also acts as a mask. It has a luxurious, spa-like feel to it and instantly brightens my lifeless skin (haha). I use this 2 times a week in order to give my dry skin a little "boost" without drying it out. I highly recommend it!
---
FINAL THOUGHTS
Since I love both of these product lines so much, I want to encourage you all to take look at the MediTree Botanicals webpage by clicking here. With each passing year, I become more and more aware of what I am using on my skin and the larger impact that the ingredients have on me + my environment. With MediTree's new Pure Australian Botanicals line, you can get the luxury feel without reading through dozens of complicated names on in a less-than-perfect ingredient lists. This product line has something that can benefit nearly ALL skin types, so I highly suggest that you check it out! Best of all – each product I mentioned here is exceptionally priced. Make sure to use the Nature's Plus store locator tool if you are interested in trying these collections out in person!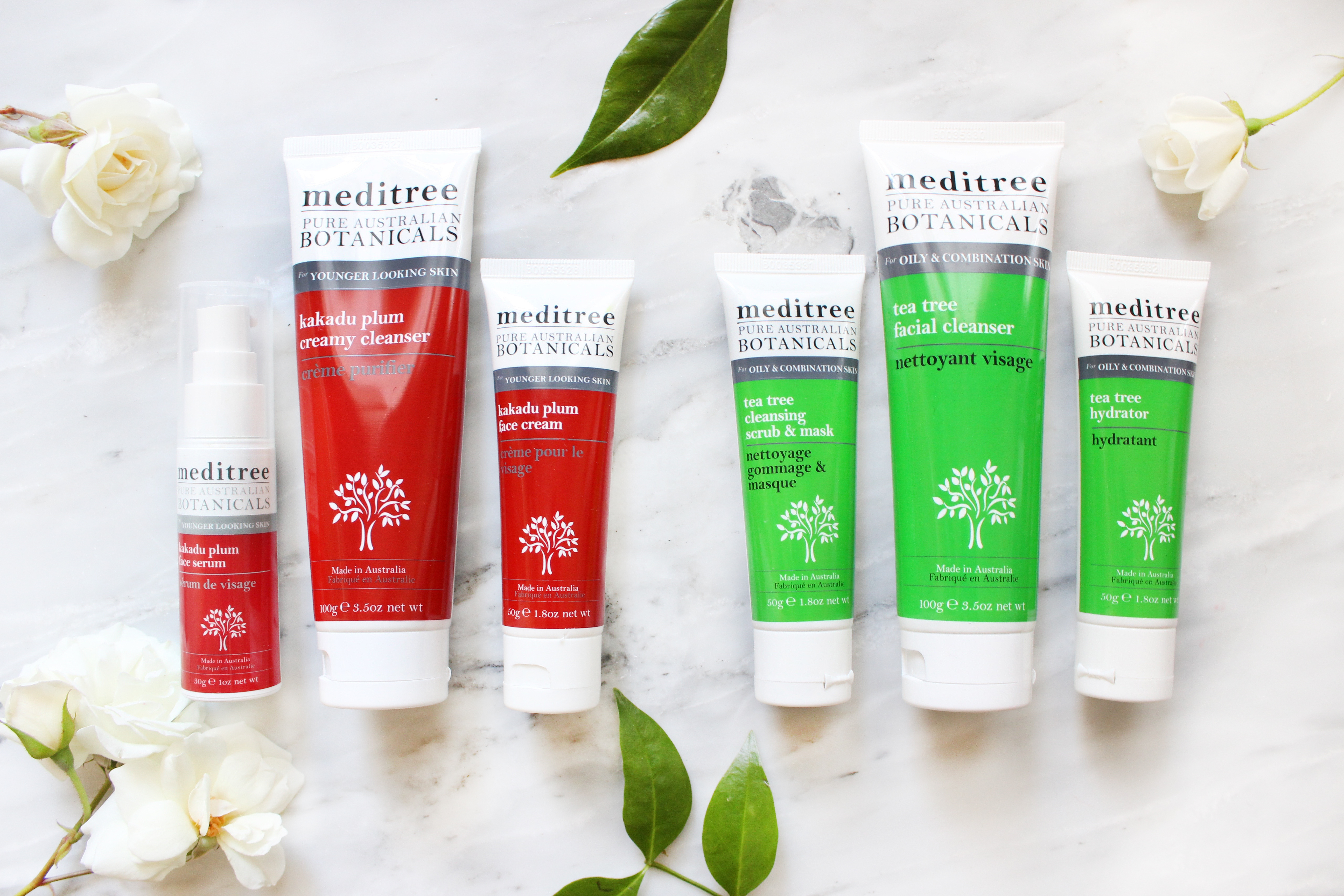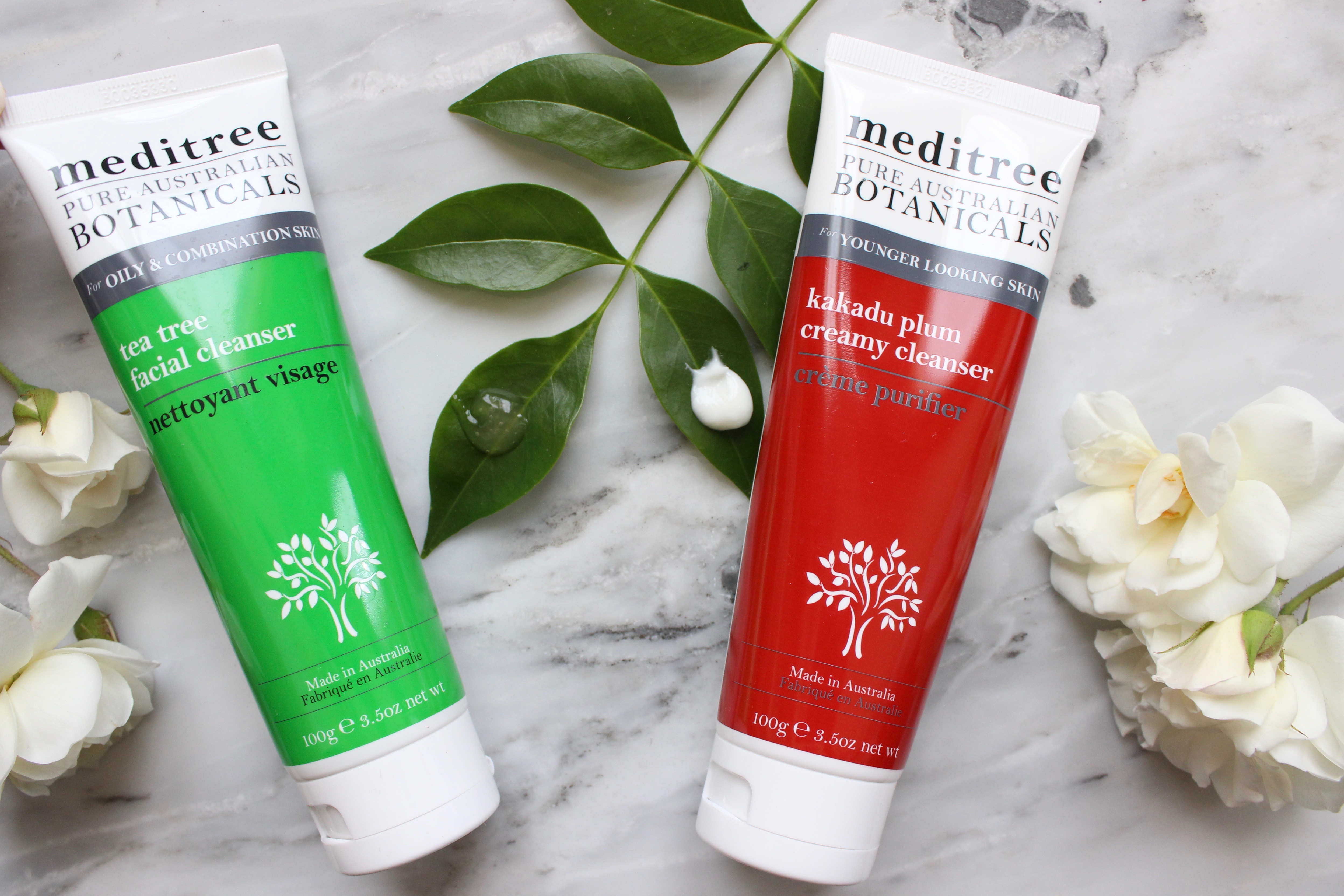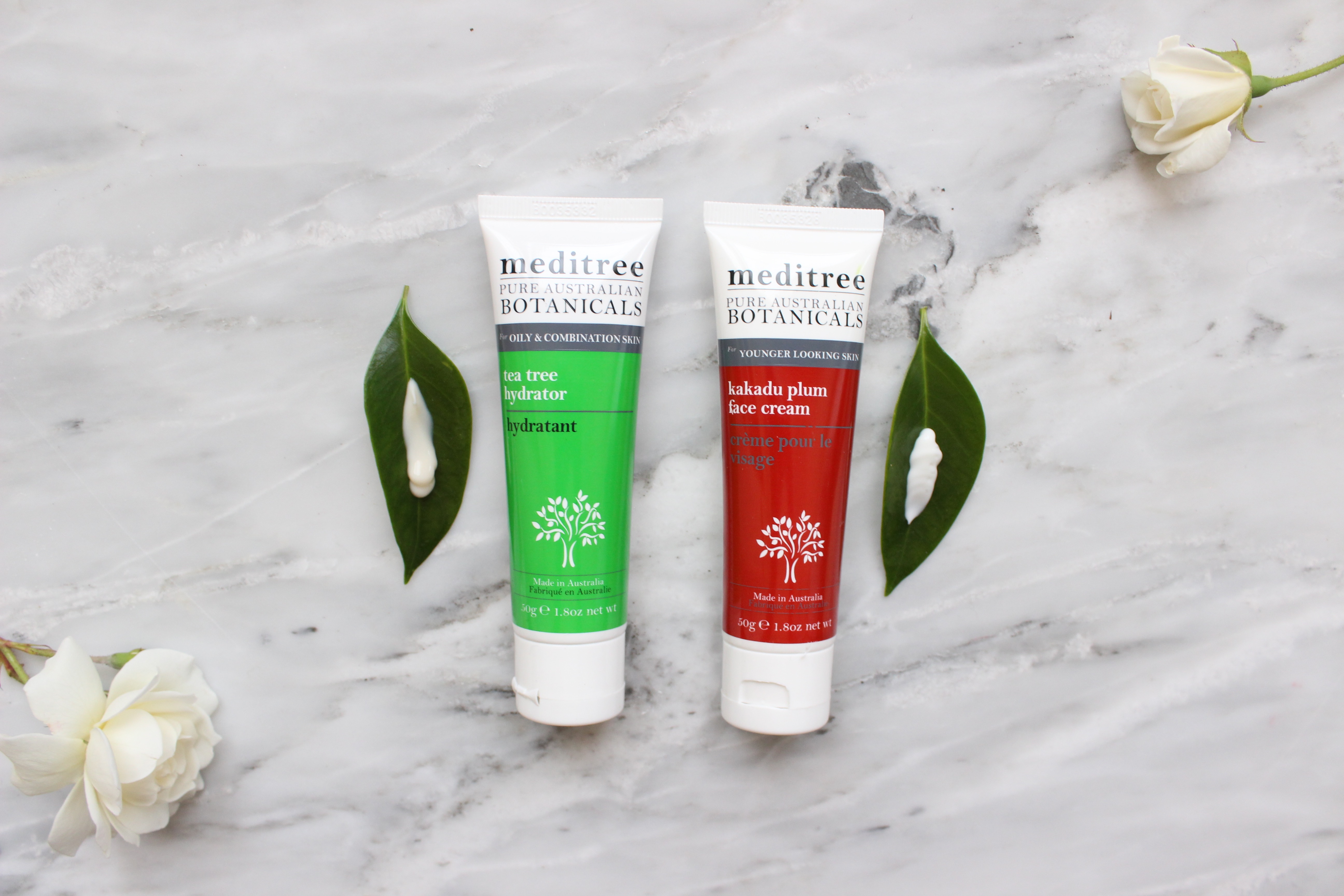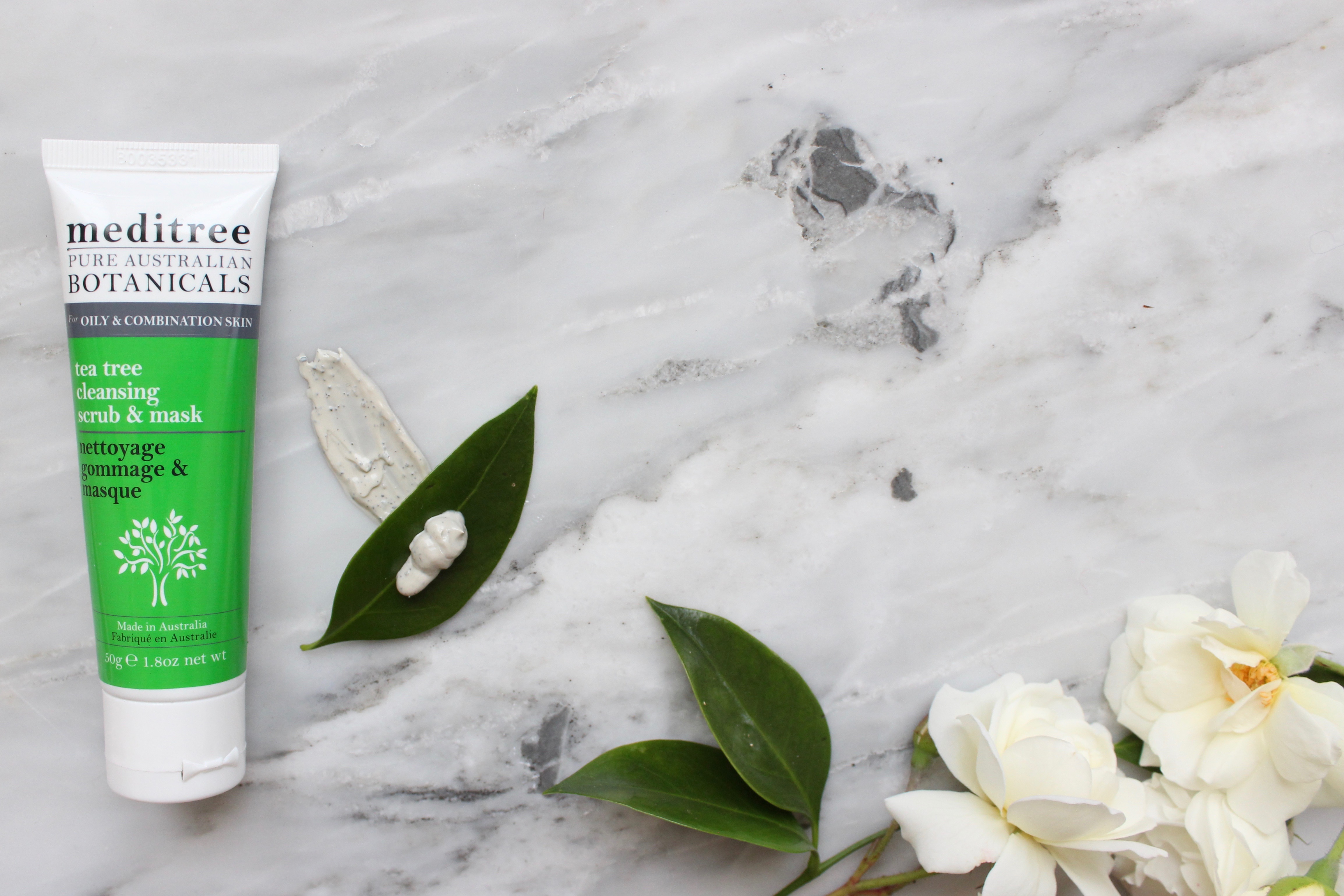 Thanks so much for stopping by! I sincerely hope you give the natural products route a try. Please let me know in the comments section if you have tried any of these products + what you thought about them! xo