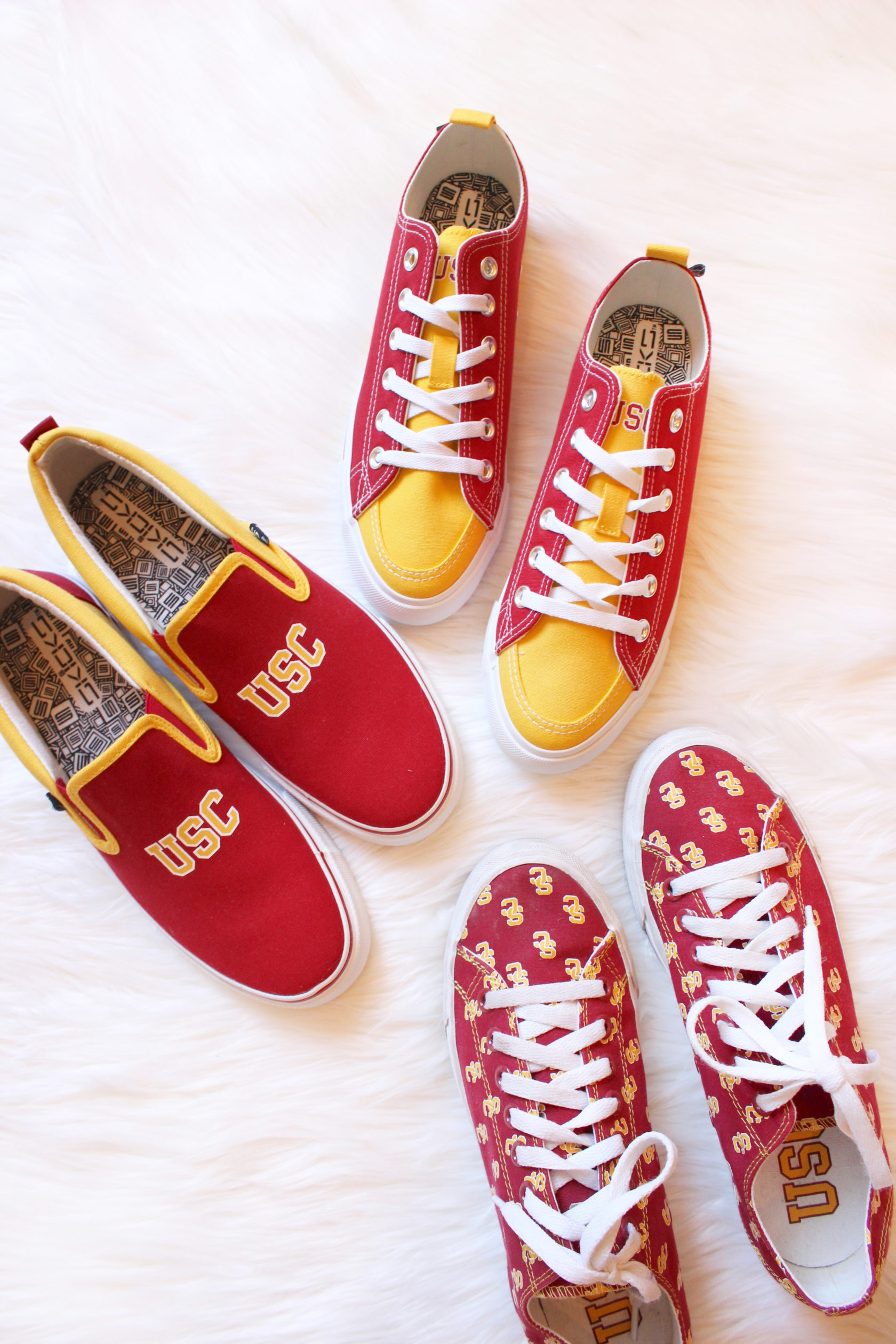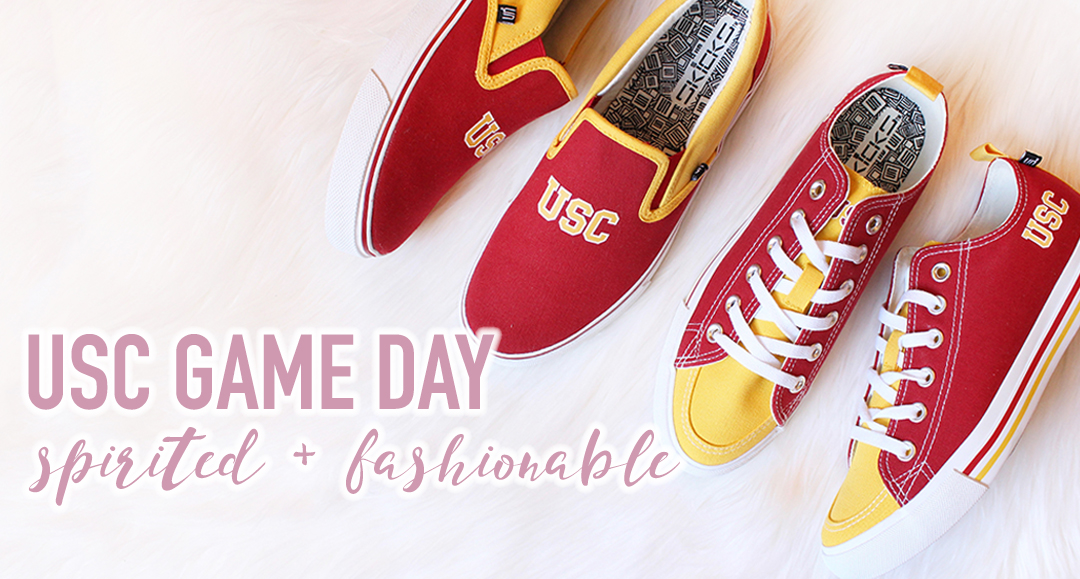 Today I'm sharing my favorite game day accessories! Since graduating in 2015, I've had to get creative with ways to show my school spirit since my sorority/fraternity homecoming tees and knee-high USC tube socks just weren't cutting it anymore (haha). I hope that you will find these picks helpful + creative! While these items are USC branded, I know that most of them are also available with branding for other colleges – so make sure to take a a look at the links if you're interested in finding another school.
---
CHIC JEWELRY
To say that I am obsessed with these jewelry pieces would be an understatement, guys! They are so perfect for gifting to girls who just got into USC or are preparing to graduate. I wore mine to my graduation ceremony (pictures below) and got tons of compliments on it. While I didn't initially think that I would have many opportunities to wear these pieces (apart from wearing them on game days), I actually get a ton of wear out of them. I love wearing them to alumni events and while traveling to different places for games.
I received the USC arched full logo necklace for my birthday a few years ago and I found the SC logo interlock necklace while browsing the USC bookstore between classes back in the day. I also wear my SC interlock charm bracelet year-round, it's around $30! You can find it here in gold and silver.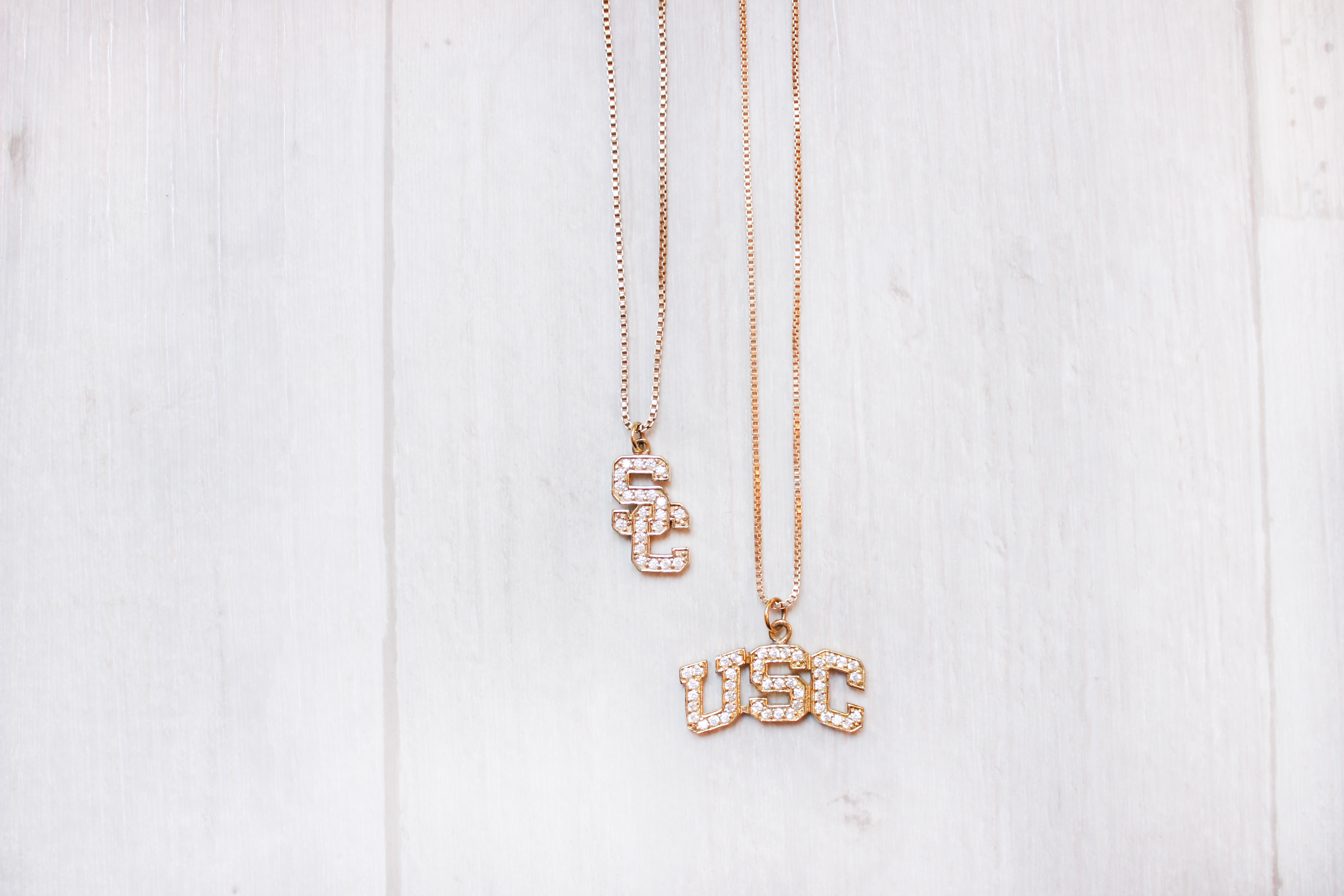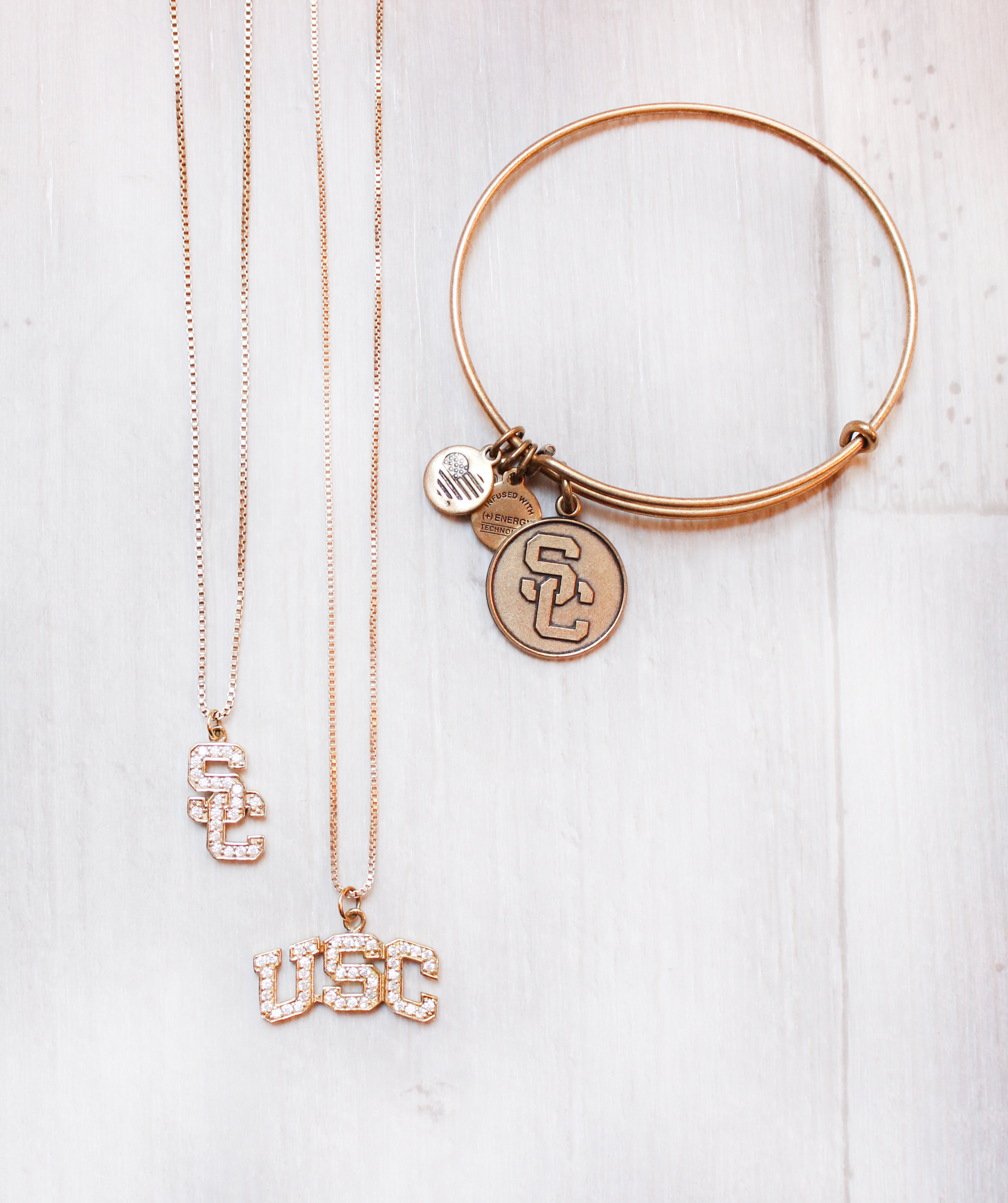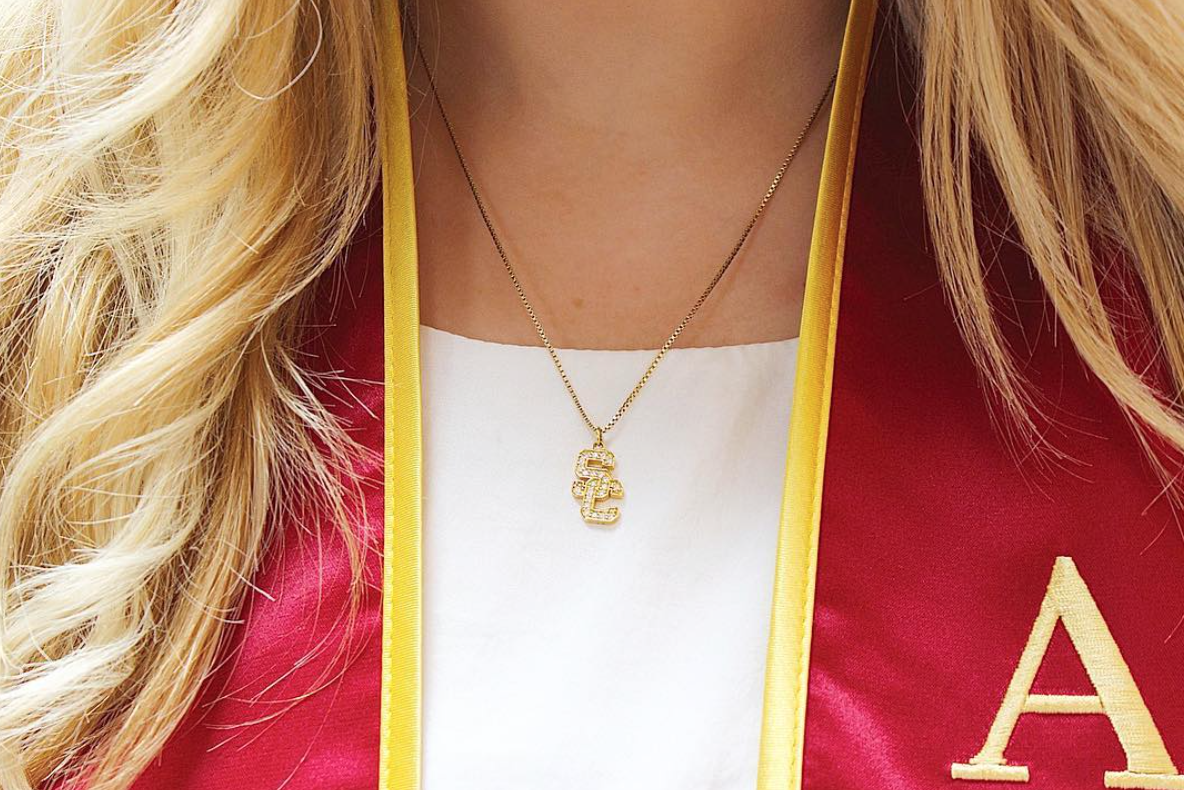 ---
PINS
I don't know why, but I LOVE pins! I have been collecting a few over the years from games and special events, but I narrowed it down to my top 2 favorites for this post. I like to switch them up depending on which game I'm going to and what I'm pinning it on. My Rose Bowl Pin was from the 2017 game so I don't have an exact link, but the SC interlock logo pin + tons of other fun pins (most of them under $10!!) can be found here!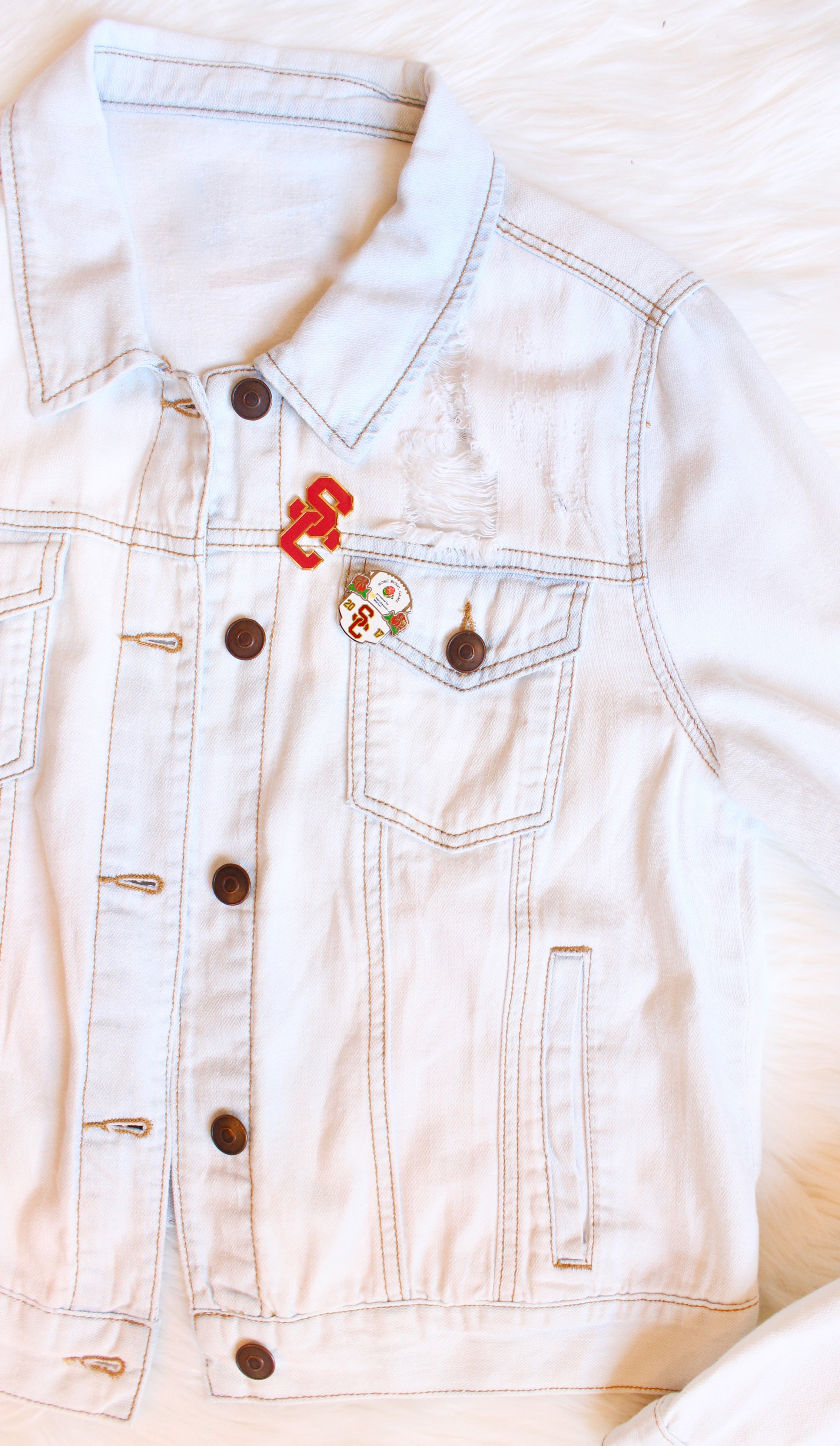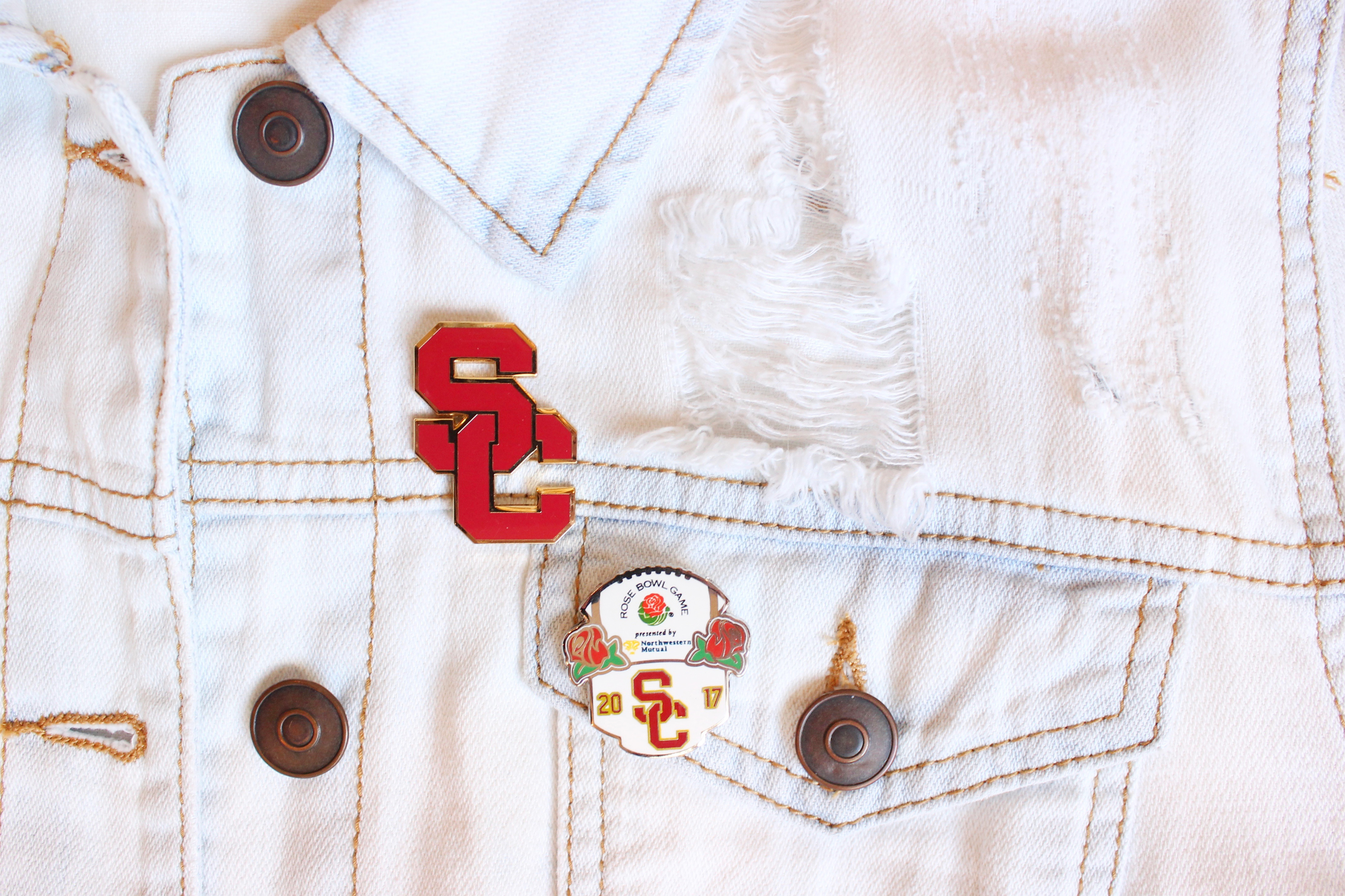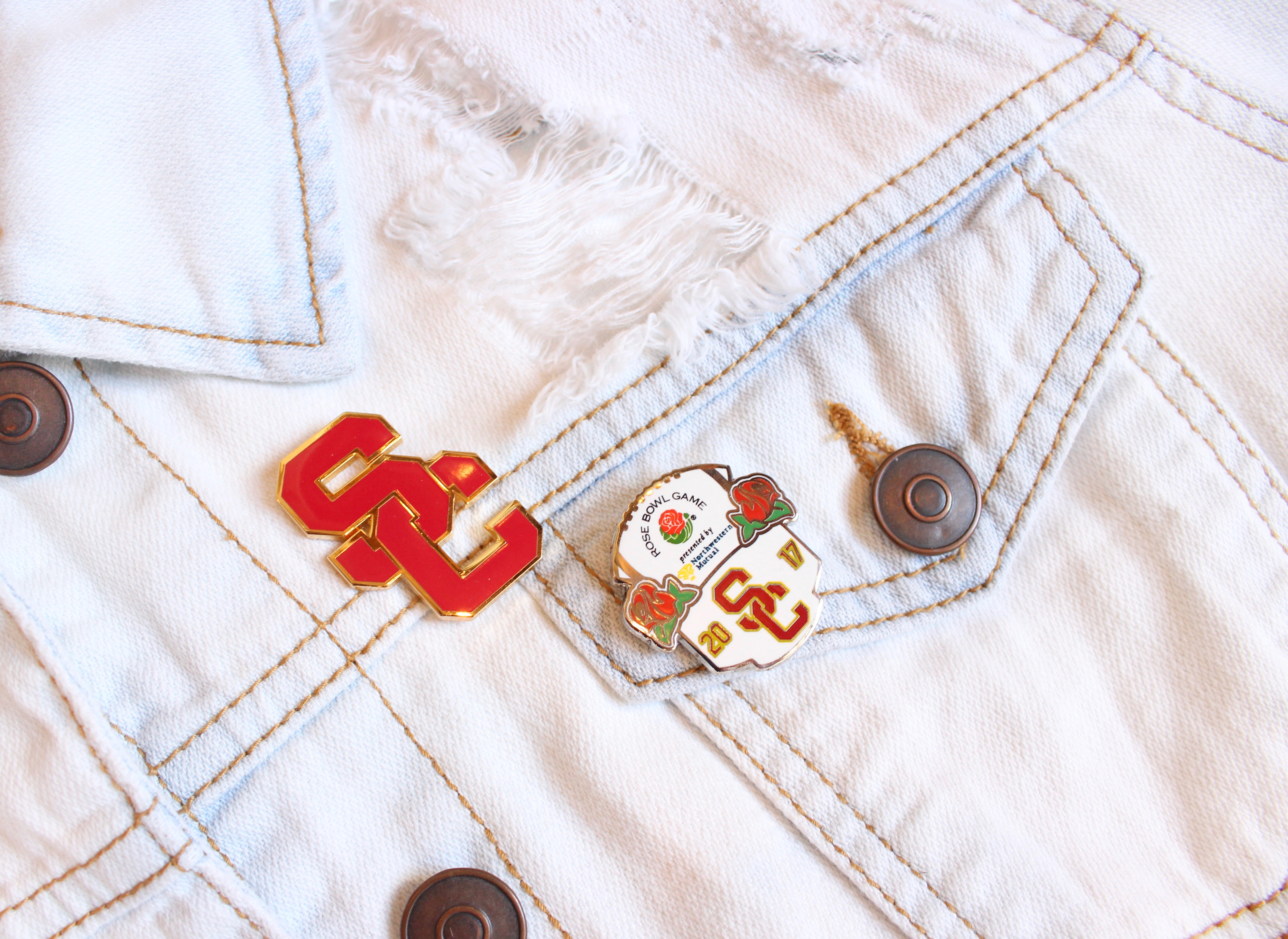 ---
STADIUM-APPROVED CROSSBODY BAGS
As much as I love me a good mini handbag, there's such a ting at TOO mini. Sadly, the stadium's new handbag policy has some ridiculously small size requirements for bags that are not transparent. While I know this rule exists for security reasons (yay for security/safety!!), it pretty much rules out bringing in a non-transparent bag because it will be too small to be functional.
Since nearly every single stadium has implemented a clear bag policy, I always make sure to have a stadium-approved bag for game days. I usually take my really cute USC Trojans Clear Handbag from Silver & Gold Boutique because it is the perfect size and fits all of the essentials! I also love taking this larger transparent crossbody satchel because it is a really chic take on your average transparent handbag. I like using the slightly larger satchel for away games since I might be traveling and need to hold a few extra things in my bag. I couldn't find the exact link to the one that I have in the photo since it is a bit older, but this one is similar. Also, you might be able to find a similar one if you search "transparent crossbody bag" on eBay!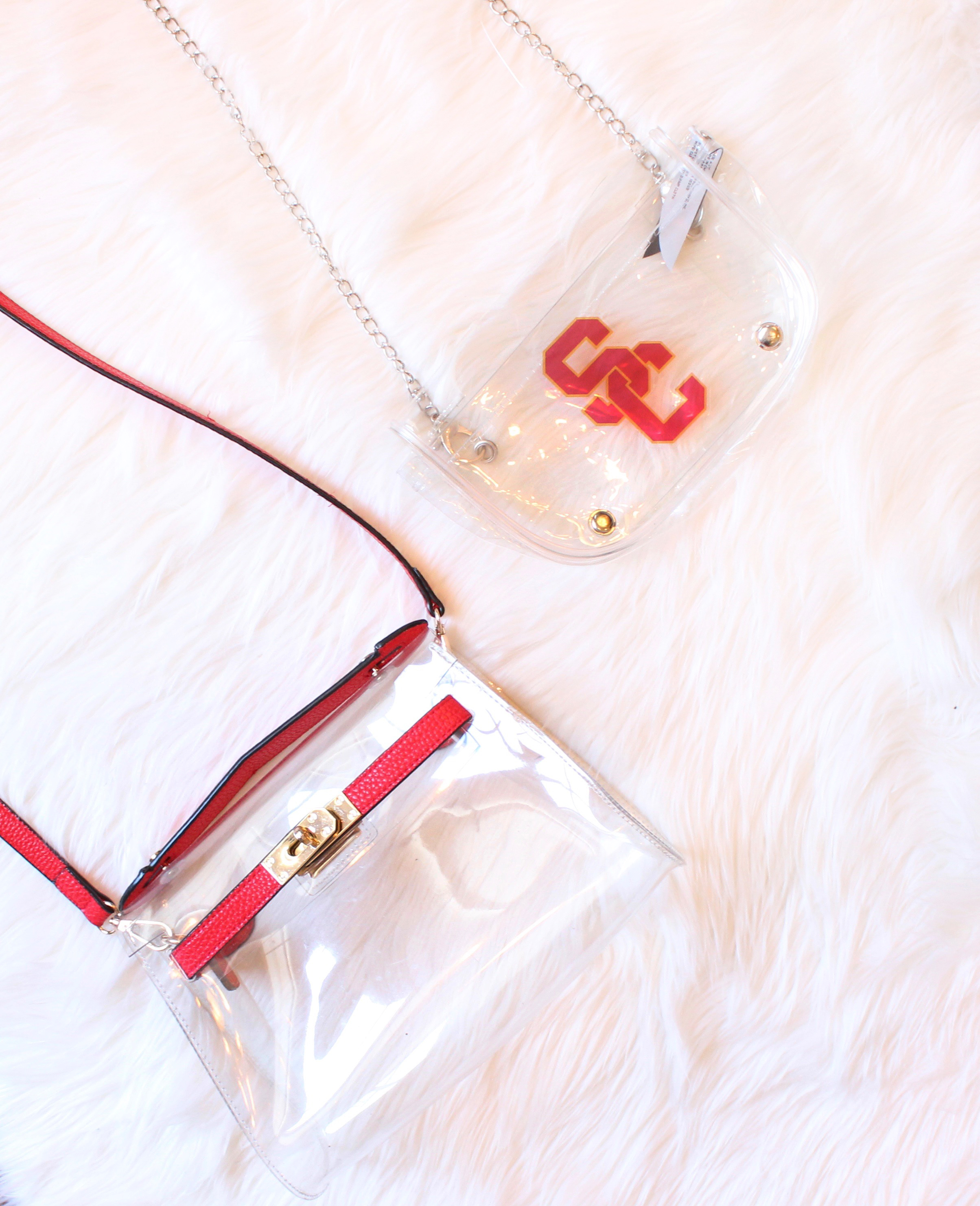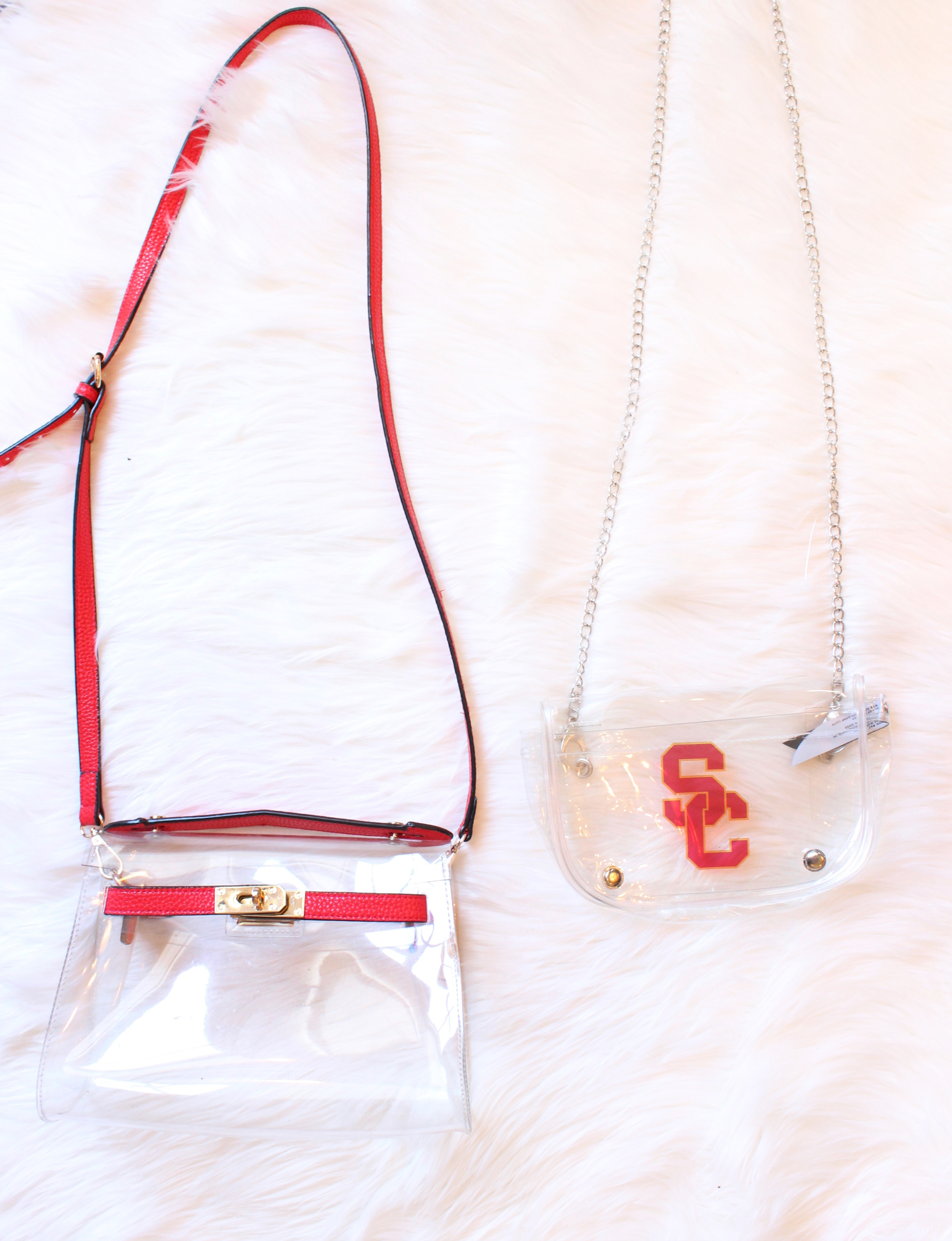 ---
SNEAKERS
The walk from the tailgate to the stadium is often pretty far, so I always make sure to wear comfy sneakers to games. Last season I wore these red SC interlock logo sneakers TO DEATH and they are still in great shape! I picked those up at the bookstore a few years back, but they are also available online.
I just recently received these USC Classic Slip Ons from a brand called Skicks and can't wait to bring them on my trip to the USC vs. CAL weekender trip next month! Skicks also makes these USC Low Tops that my mom and I plan to share (she's also a Trojan!). Yes – I know three pairs of USC themed shoes seems excessive, but hopefully these will last for many many seasons to come!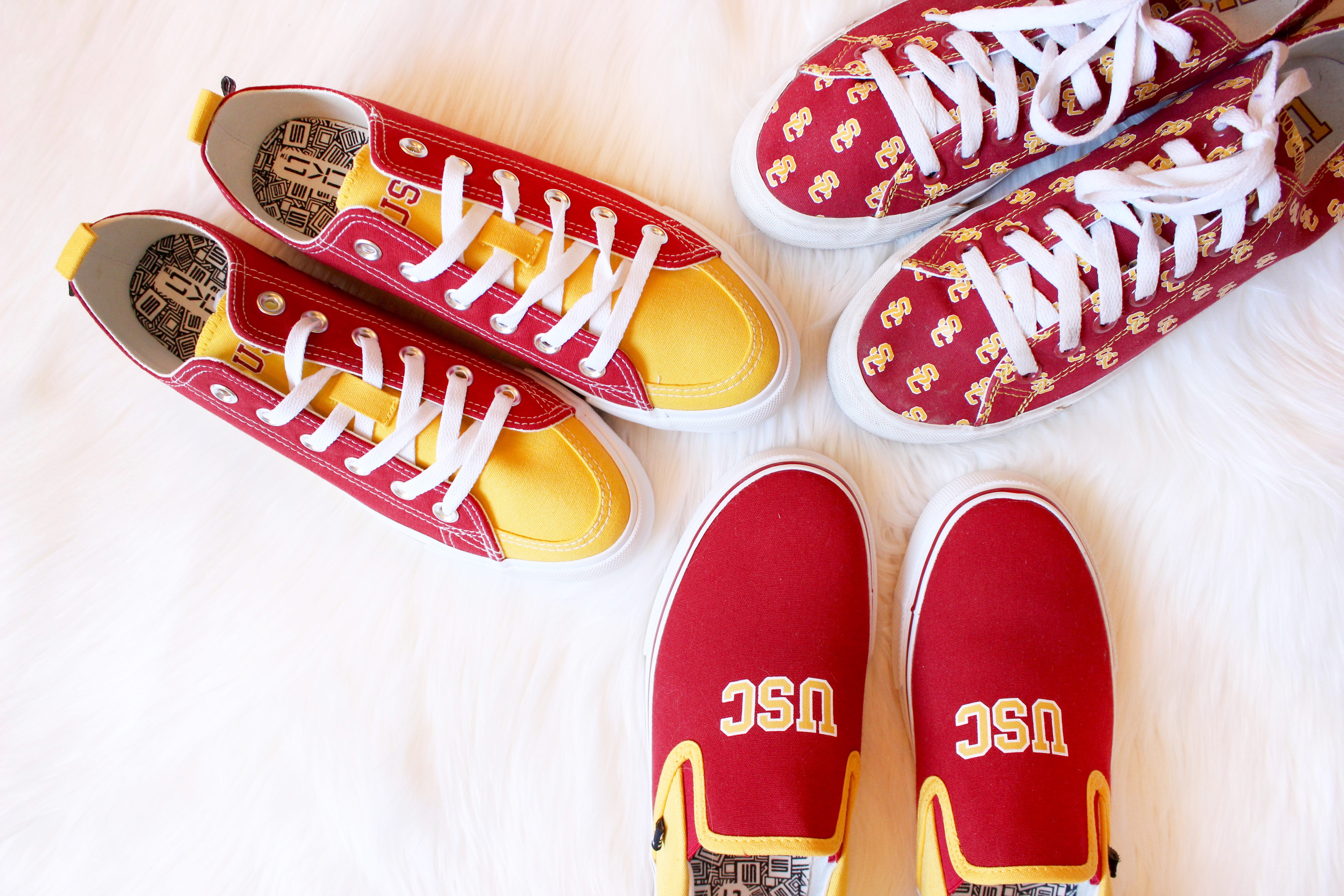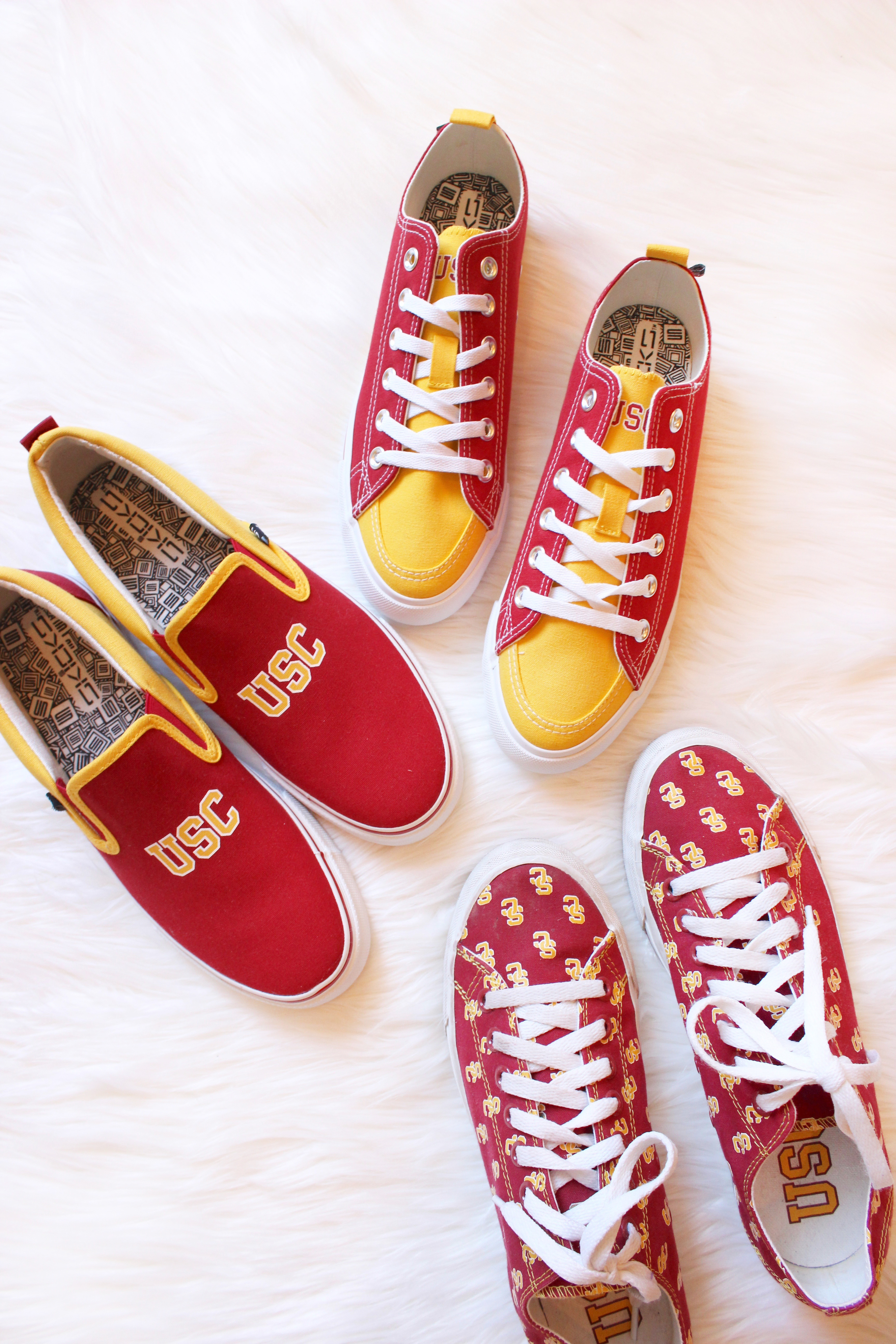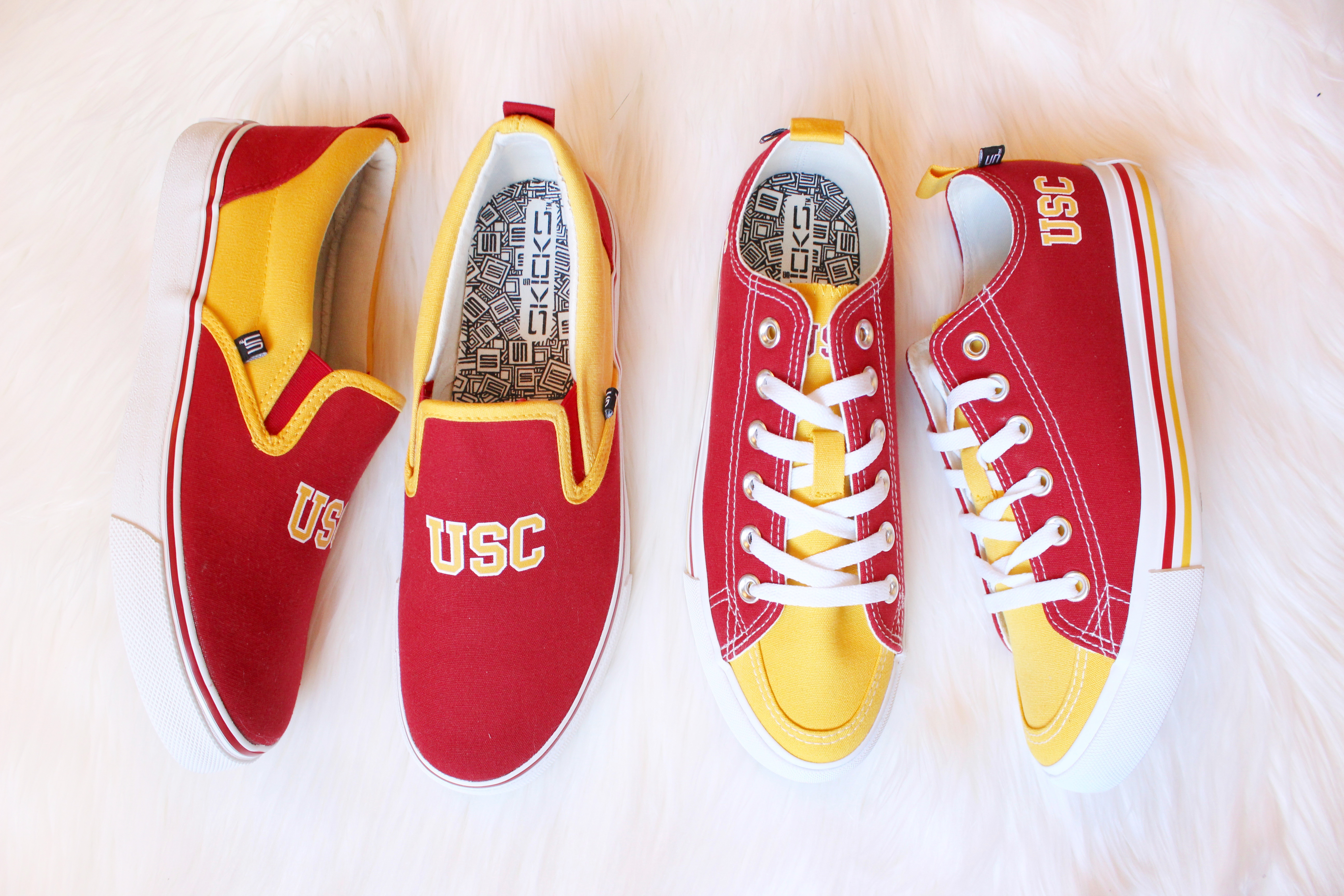 Thanks for stopping by and feel free to leave any questions that you may have about sizing, styling, etc. in the comments section.
FIGHT ON! 🙂