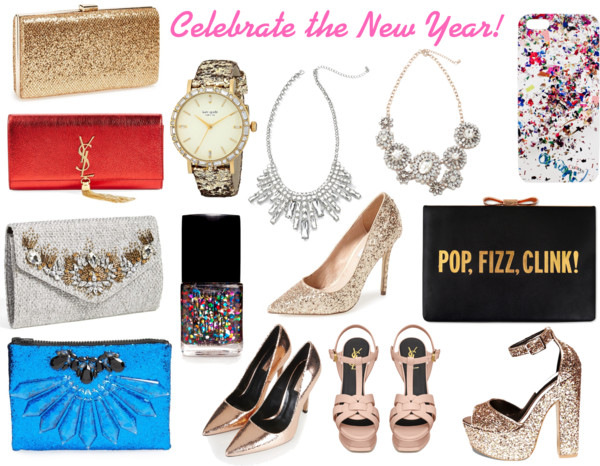 I can't believe New Year's Eve is almost upon us! The past year has flown by. I am so grateful for the people, places, and experiences that I encountered over the course of 2014. I want to thank you all for your support and engagement with my blog and Etsy shop throughout 2014 – it is hard to believe Pretti Please is almost 1 year old already! 🙂
For this year's NYE celebration, I am flying up to San Francisco to spend the week with my boyfriend. I will be up there for a few days to do some celebrating, shopping, and to make my boyfriend do touristy stuff with me (in his own area, hah!). While packing for my trip, I spent some time brainstorming a few of my favorite New Year's Eve accessories, so thought I'd share them since I know everyone is preparing to do some of their own NYE styling! This year, I've decided to pack a simple black dress and style it using fun, glittery accessories such as the ones I've picked below.  Each smaller photo (below) is linked to where you can purchase the item online. Enjoy! I'll be taking lots of fun photos of our adventures and posting them on Instagram, so make sure to follow along! 🙂
I wish you all a happy & safe New Year's Eve celebration, wherever you are!